Piglet mortality is an unfortunate fact of life, but Matthew Rooda was frustrated with the sheer number of piglets being crushed by sows. So much so that he decided to take matters into his own hands and try to reduce piglet mortality rates.
Rooda's drive and ingenuity is part of his DNA. He came from a long line of pork producers who sought creative solutions for obstacles found in pork production. That passion for caring for pigs was ingrained in him at an early age. Raised near Pella, Iowa, Rooda had a strong interest in animal agriculture but "I was kind of encouraged to do something else." Rooda decided that becoming an obstetrician would be a great profession as he enjoyed animal husbandry and working with people, and that meshed the two well.
It was while attending Hawkeye Community College in 2013, Rooda became assistant manager of a farrow-to-finish operation in Waterloo, Iowa. While Rooda was managing that operation he became frustrated there wasn't really anything that could stop piglets from being crushed by the sows. "I wanted to find a way to solve it."
After receiving his associates of liberal arts degree, Rooda went on to the University of Iowa where he majored in genetics and biotechnology. Rooda and his best friend, Abraham Espinoza, set out to create a solution to reduce piglet crushing deaths and started SwineTech in August, 2015. This desire to engage in finding a meaningful solution to piglet mortality led Rooda to focus his career ambitions to animal agriculture innovations. Rooda and Espinoza's presentation at the 2015 John Pappajohn Founders Club Fair, where University of Iowa students showcase their businesses, earned them first place and allowed them the ability to continue in their quest to develop their ideas further.
In doing research they discovered that 92 percent of the pork producers surveyed were interested in finding a way to stop piglet crushing in their pork operation. "Producers asked for a proactive tool, and that's what we did," Rooda said.
Through their company, SwineTech, Rooda and Espinoza partnered with John Rourke to continue in their advancement of improving piglet mortality rates. Rourke developed an algorithm for the sound a piglet makes when being crushed. They also worked to figure out how to decipher where the piglet that was being crushed was located in the barn.
How to get the sow to move off the piglet, however, was a challenge, Rooda tried an electrical stimulus which wasn't effective. "It stressed out the sow." They then tried using a Tens-Unit, a transcutaneous electrical nerve stimulation which worked to get the sow to move or stand up — but didn't stress the sow. "We had to develop something to put on the sow." Rooda tested 60 different adhesives and in doing so discovered that a medical adhesive stayed on the sow the best. The end product is called SmartGuard.
SwineTech wanted to try out SmartGuard, and worked with Kansas State University in November, 2017 on behavior trials. The results showed that SmartGuard worked in producing a less stressful response in the sows. It took two years to refine the technology in the system. The end product is the SmartGuard system that reads data to accurately locate and alert the sow, via vibration through the wearable device adhered to the animal, to move if a piglet is getting crushed. The system also has automated pen heating, is portable and waterproof.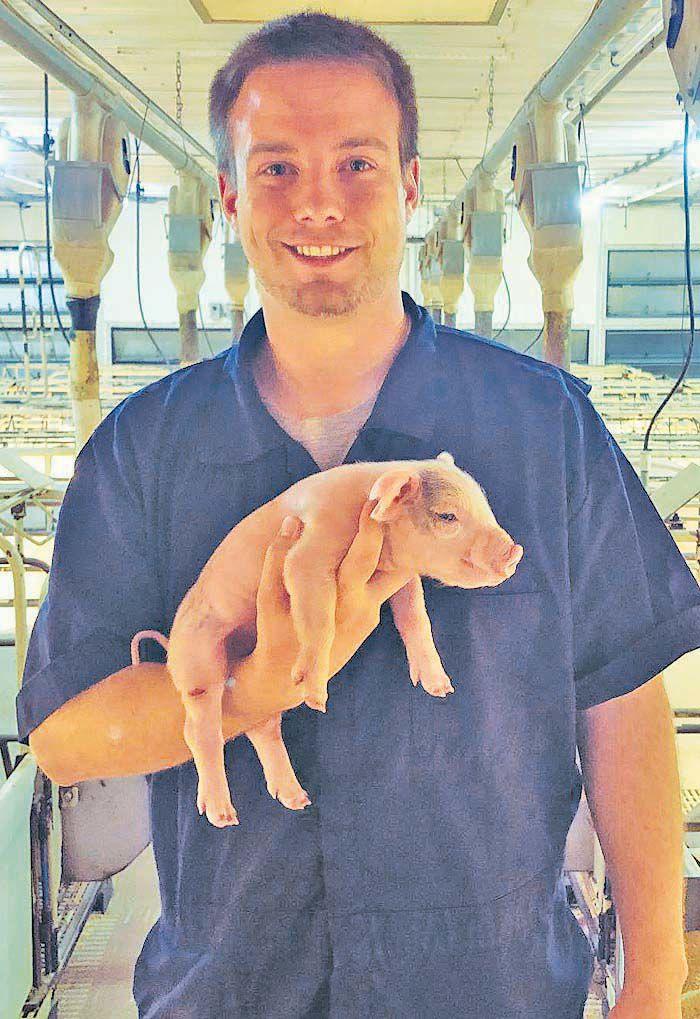 Rooda believes the only competitor to SmartGuard is 24-hour staffing in an operation, having someone there to constantly check on the piglets to ensure they aren't being crushed by the sows, and would virtually eliminate piglet deaths. However, having 24-hour staffing simply isn't feasible for all hog operations. Rooda feels that SmartGuard is the alternative to having eyes and ears 24/7 in the hog barn.
Rooda admits that SmartGuard isn't right for all hog confinements. If the facility has a very low piglet mortality rate, then SmartGuard wouldn't make that much of an improvement in piglet survival. "For the average 80 percent of the industry we're going to make a big difference."
Producers who are interested in the product reach out to SwineTech directly. "We'll conduct a site survey." The site survey along with a cost analysis will help the producer see if SmartGuard would be the right addition to their swine safety arsenal. SmartGuard has been sold to producers in eight states and in one province in Canada.
SwineTech began with three people and there are currently 12 people now part of the company which is located in Cedar Rapids, Iowa. "Every person you bring on brings new incredible experience," Rooda said. He has hired individuals from many different sectors — from Boeing to the Pentagon. Rooda believes their wide range of depth and skill has been an asset to SwineTech.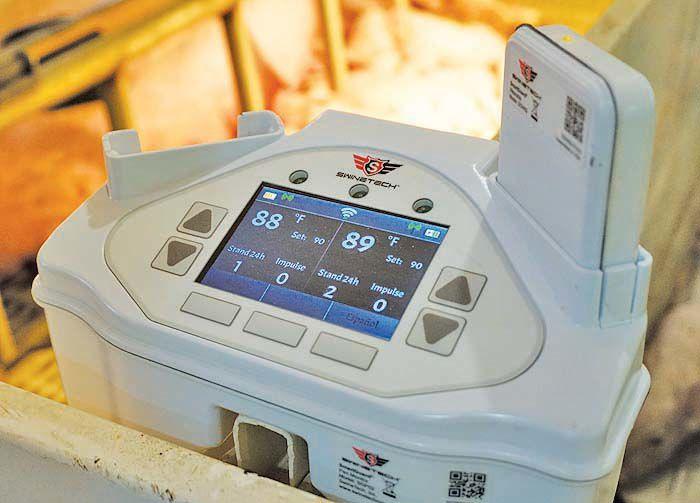 One of the biggest joys of creating SmartGuard is the satisfaction of making a difference. "Saving our first pig was really exciting," Rooda said. The latest study shows a 25.3 percent reduction in pre-weaning piglet mortality when using SmartGuard at day five. According to their data, SmartGuard has now protected over 1,000,000 piglets. Rooda attributes the success of SwineTech to the people who are part of the company. "There's a lot of joys around the team." While research and development of products can at times be frustrating, Rooda has learned to celebrate the good stuff along the way. "It's recognizing the small things, the small wins. It's a great place to work."
In September, SwineTech was given the THRIVE-Forbes Innovation Icon Award. According to Forbes, "The THRIVE Midwest Challenge is a pitch competition for startups developing ag biotechnology, livestock and animal health and digital crop technology relevant for Midwest farmers and producers." Along with the award, SwineTech was presented a $100,000 investment from SVG Ventures and advertising in Forbes magazine.
Rooda will always be a farm kid at heart — working to create a better, safer environment for sows and piglets. Reducing piglet mortality was once a dream of his; but through dedication and unending effort, the SmartGuard system is a reality and one that Rooda feels is not only saving piglets but allowing pork producers to have another tool in efficiency which could help with their overall bottom line.
"No better group of people in my mind that we could be serving. Today, we can help solve problems."
For more information on SwineTech, visit swinetechnologies.com.