OWATONNA, Minn. — Minnesota has about 120 elk farms, according to Greg Lubinski, board member of the Minnesota Elk Breeders Association. About 3,900 elk are raised each year on these farms. Statewide, Minnesota boasts about 460 Cervidae producers (elk and deer).
Lubinski indicated elk numbers average 40 to 50 head per farm, but some are considerably larger. At Lubinski Elk Acres near Plainview, Lubinski raises about 200 head.
"We produce mainly meat, but also do velvet antlers for the velvet pills," he said. "People with arthritic problems are a big market for the velvet pills, a joint supplement long touted by various cultures around the world, especially in China, Korea, Japan and Russia."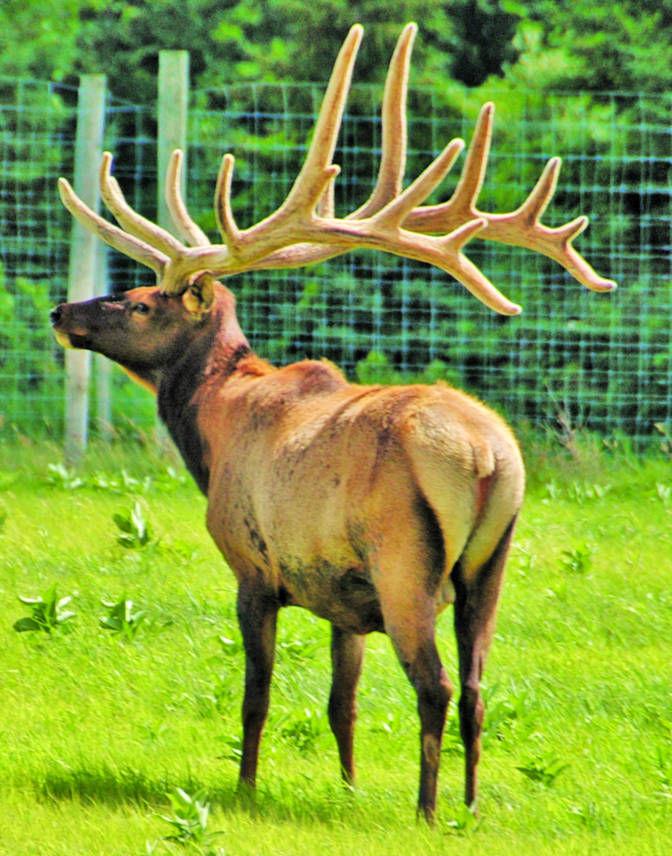 Lubinski said growing elk is much like raising beef with a few specific regulations. You need an 8-foot fence enclosure for your elk herd. You need to be registered with the Minnesota Board of Animal Health and each animal needs to be identified with an ear tag. If a wild deer gets into your elk enclosure, it needs to be destroyed. Your herd needs to be inventoried by an accredited veterinarian and filed with the board every 12 months.
The Lubinskis pasture their elk herd, then switch to haylage, hay and limited grain in the winter months. "We start our weaned calves on a ration that gradually moves up to two pounds of grain per animal per day. It's a mixed ration running about 16 to 17 percent protein with about a 60 energy rating. We also test our hay each season for protein levels and relative food levels."
Lubinski's local grain elevator at Plainview handles the testing of both dry forages and pasture grass. Samples are sent to a Wisconsin testing lab. Lubinski is particular about nutritional content of his elk rations. "Elk are the predominant source of income in our total farming operation," he said. "This is not a hobby."
Gross income from their elk operation will be over four times income generated from their corn and soybean crops. They farm 240 acres with 110 acres in permanent pasture.
"We sell elk meat by the pound," he said. "Some buy the entire carcass; some buy just a half carcass. We also have producers within our Minnesota Elk Breeders Association that have their own meat distributorship. We'll sell whole animals to them, sometimes moving 40 to 50 head in one shot."
What is dress-out on a market weight elk?
"The last four years for us it's been 64 percent live weight to hanging weight," he said. "A mature cow will average between 500 to 600 pounds live weight. A two-year-old male will be around 700 pounds. Older bulls, four years and older, can be up to about 1100 lbs. live weight."
Characteristics
The gestation period for elk is about 245 days. Calving season starts in May. "Cows calve early spring on grass. We check them twice daily to make certain there aren't any problems," he said. "But cow elk do remarkably well during the calving process. We just don't have any calving issues."
Cows occasionally produce twins, but singles are preferred.
"Twins can be stressful for some cows," Lubinski said. "Deer will twin quite regularly, but not so elk. I've been in the business since 1989 and have only pulled three calves. Elk cows are remarkably trouble-free at calving. Plus, they usually calve during daylight hours. When you see a foot sticking out, you've got a calf on the ground within a half hour, often just in 15 minutes."
Elk cows are durable. "I've got cows 14 years old still producing good calves," he said. "And a bonus of elk cows, when you cull, you've got good carcass meat to sell. You don't sell for hamburger meat except perhaps cows 10 years and older. Your prime meats would be from males and females 3 years of age and younger."
As for bulls – "A good elk bull can service about 30 cows," Lubinski estimated.
Like most livestock species, elk have a pecking order. But shortly after your herd is grazing, pecking disappears. Lubinski uses alfalfa with a timothy/orchard grass mixture for his hay and haylage forage. The grass dries the freshly-cut forage a little faster.
"They actually prefer more of a grass mixture with their legumes. Our pasture mix is usually 50 to 60 percent legume, red clover, white clover, or birdsfoot trefoil plus a brome grass/timothy mixture. The hay usually lasts three to four years. Then we have a well-established grass/legume pasture," he said.
Certain birds relish this habitat also. Lubinski remembers when he was 4 and 5 years old, Bobolinks and Meadowlark prevailed on their farm. But when field spraying with pesticides became widespread, those birds declined. When he made his first pasture cut a few years back, two Bobolink showed up.
"Now we have eight sets that come year after year," he said, "and we're now at 400 to 500 Meadowlark out there. Birds and elk get along well. The birds sit on the backs of the elk and keep the flies away. Even the calves let the birds ride on their backs, so no more fly spray concerns."
Every elk farmer has a story as to how they entered the field. Here's Lubinski's:  "I was in Chamberlain, S.D., before I got married. I was out there with my future father-in-law, Loran Heins, who wanted to raise elk. So we threw some cattle racks in the back of his diesel pickup just in case he found an elk for sale. I thought he was nuttier than a loon. But when we got to this livestock auction in Chamberlain, they were selling everything, A to Z. This elk cow came running through the auction ring and it brought $800! This was in the early 1980s. You couldn't get $400 for a bred beef cow!
"So I asked him how many elk can you raise on an acre of pasture? He said, 'Whatever you can run a beef cow on, you can run three elk cows.' They are a true browser grazer. They are a ruminant just like a beef or dairy cow. He bought his first elk later that summer on a trip to Missouri where he was checking on some Charolaise cattle. They happened to drive by Lolli Livestock Market in Macon, Mo., which was having a big sale on elk. A couple years later I had convinced my bride that we should get into the elk business too, so I started with three cows and a bull."
Market
Lubinski describes the four legs of the elk business: breeding stock, meat, antler production for velvet, and trophy bulls sold to big ranchers who specialize in $10,000 hunts for a trophy bull elk.
"Actually, you could count the hard antlers as a fifth leg because there is always a good market for antlers. These are sold for display racks to impress visitors; or to make unique furniture; or as a special holder for family photos. And a new use that has really taken off is dog chews. Dogs love them because they don't splinter like a bone. And they want that marrow inside the bone which carries some glucosamine and chondroitin sulfate," he said.
According to Minnesota Grown, elk meat is known for its high protein and low fat content which makes elk a heart-healthy alternative to other red meats.
Lubinski sees no practical limit to the numbers of elk that could be raised in Minnesota.
"I would like to see us become like New Zealand, where they process upwards of 300,000 a year. They used to slaughter close to 800,000 a year," Lubinski said. "The great conservationist Teddy Roosevelt said, America's farmers and ranchers should consider raising elk as a diversification that would enhance both our soils and our health."
Despite his enthusiasm, Lubinski cautions that raising elk is not a get-rich-quick strategy. And it's not for everyone. You need some basic understanding of livestock and a genuine respect for the future of the industry.
Greg Lubinski was interviewed on March 16 at the North American Farm and Power Show in Owatonna.