MANKATO — Derek Chayer had two close calls Saturday afternoon as he drove home during a storm with strong winds that toppled trees and power lines across the Mankato region.
He had to swerve to avoid a fallen tree branch on Lookout Drive in North Mankato. Then he heard a large boom as he pulled into his driveway on McConnell Street in Mankato.
The rain was pouring so hard he couldn't see the large tree as it fell from his next door neighbor's yard onto the street — just seconds after he drove by that very spot.
"I was like: 'Holy cow,'" Chayer recalled as neighbors gathered to check out the snapped tree.
Just down the road another large tree was snapped outside Washington Elementary School. Another tree lost a large branch.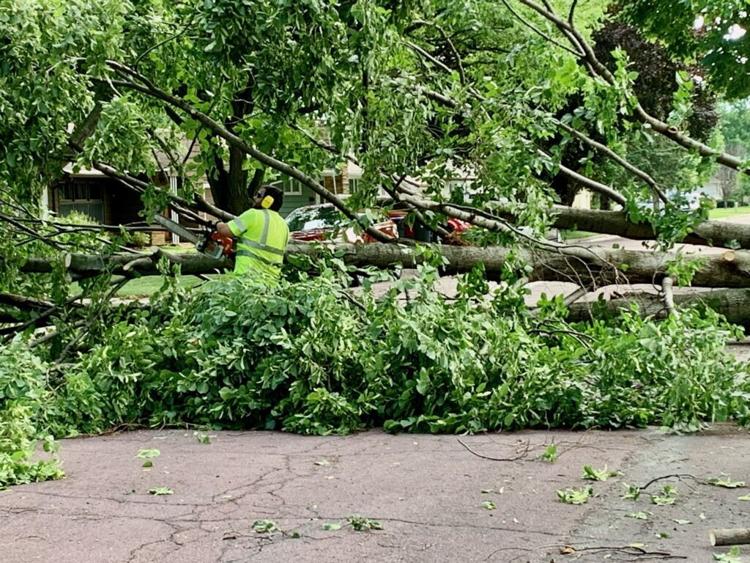 Mankato, Eagle Lake and Madison Lake were hard hit by the storm that reached Mankato around 3 p.m., according to National Weather Service and social media reports. Numerous trees and some power lines were reported down in all three communities.
In the Madison Lake area, there also were reports and picnic tables damaged by downed trees at Duck Lake Park and overturned boats on Ballantyne  and Madison lakes. The city of Madison Lake issued a request on social media for residents to stay inside while city staff and Fire Department members worked to clean up the debris.
Other damage across the region included a large tree limb that blocked Belgrade Avenue and an overturned trampoline in North Mankato, downed branches in Smiths Mill and downtown Mankato, and a roof damaged west of Nicollet. Damaged crops were reported at multiple locations.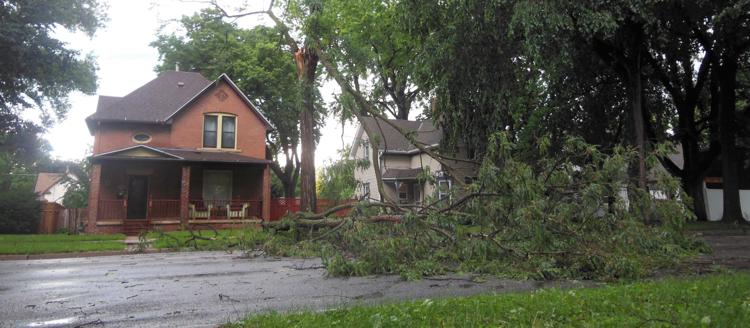 The wind gusts reached up to 58 mph in the Mankato area, according to a measurements at the Mankato Regional Airport weather station. Gusts of 45 mph were recorded in Lafayette and 44 mph near Waseca.
A tornado warning was issued for Blue Earth and Nicollet counties due to rotation.
Less wind damage but large hail was reported in Sibley and Nicollet counties, including a report of hail that was 1.75 inches in diameter northeast of Lafayette.