MANKATO — River Hills Mall opened its doors Monday after a couple of months of being shuttered.
Just over a dozen stores and a couple of food court restaurants opened Monday, the first day of eased restrictions on many state businesses.
"It looks bigger in here," said Audrae King who was walking through the mall common areas with her husband Darryl.
With all benches and seating removed and with dozens rather than hundreds of guests walking around the mall it indeed seemed more open and larger.
For Mall Manager Andy Wilke seeing guests return was a nice sight.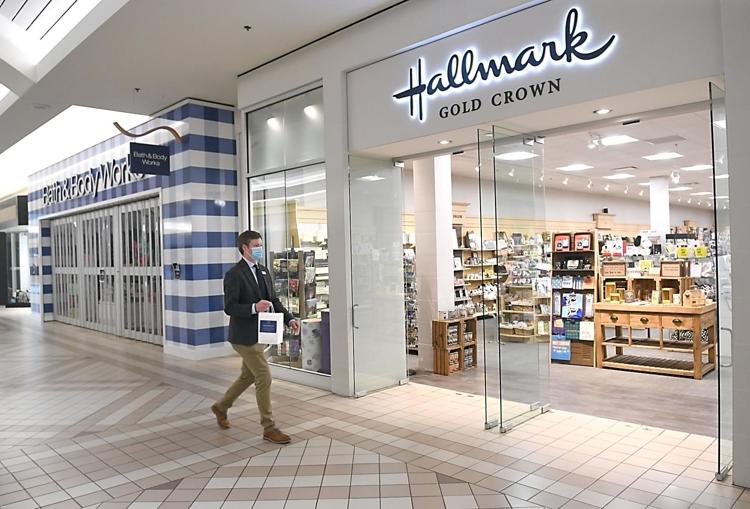 "It's exciting. We've been eagerly awaiting this day. We're looking forward to starting this new phase.
"We've been pleasantly surprised by the number of people already," he said shortly after they opened at 11 a.m.
He said more stores will continue to open in the days ahead. People can check riverhillsmall.com for a daily update on which stores are open and for other information.
The mall will be open from 11 a.m. to 7 p.m. Monday through Saturday and from noon to 6 p.m. on Sundays.
The Kings said they weren't looking for anything in particular but simply wanted to look around.
"It's just good to get out," Audrae said "I hope they can all open for their benefit."
Like virtually all employees in the mall stores and about half of visitors, the Kings had their face masks on. "The important thing now is for everyone to wear masks," she said.
Wilke said they aren't requiring visitors to wear masks but have them on hand for anyone who wants them.
Darryl King said he hopes smaller businesses survive the pandemic.
"I feel bad for the small, independents when the big box stores are open and busy."
John Reinhard was also at the mall more out of curiosity than to buy anything at the moment.
"The damage has already been done," Reinhard said of the couple of months there has been a widespread shutdown ordered by Gov. Tim Walz, a move aimed at slowing COVID-19 while the health-care system prepares for a steady increase in cases.
"The state should have allowed them to open sooner," Reinhard said.
The entire seating area in the food court is roped off and seating everywhere else in the mall removed. Hand sanitizer is available at each entrance, increased cleaning regimens in place and signage around the mall reminds people to distance.
"Shopping smart 6 feet apart," reads one sign on the floor.
Another sign on the floor, near the food court, shows a six foot space with six sub sandwiches outlined. "Think 6 foot-long subs," reads the sign.
Wilke said food court restaurants will be selling carry out food for now and awaiting more state guidance to see how rules will be loosened further on June 1 for restaurants, bars and theaters in the state.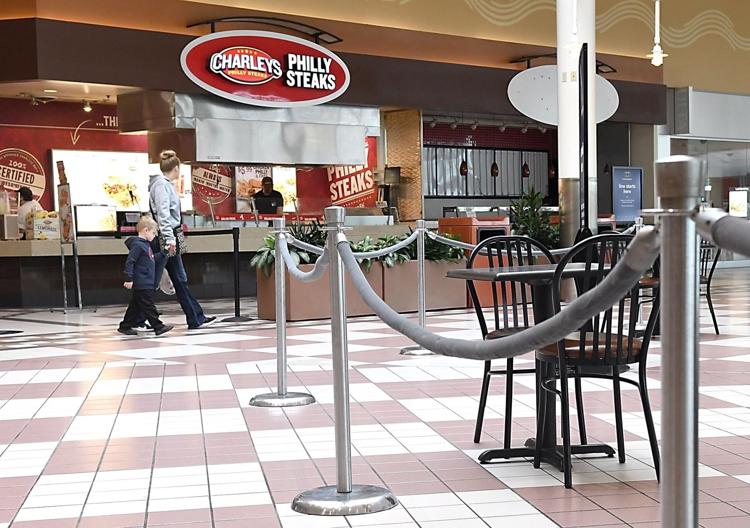 "The governor's executive order targets June 1, but it's not set in stone," Wilke said.
He said that when the food court is allowed to open the mall will space tables out and take other recommended actions.
Wilke said each business is responsible for creating COVID plans for inside their stores, including keeping customer numbers at 50% or less of the capacity set by the fire marshal for each store.
He said stores in the mall will open as they're ready to.
"Everyone's in a different phase of getting back open. They're bringing back staff, preparing their COVID plan. Some are local stores and some are corporate." But he expects the number of open stores will climb quickly.
He said the mall will follow state guidance as it comes. "We just want it to be safe for our customers and to do the right thing."
Slowly coming back
At J Longs men's clothing store on Madison Avenue Matt Long was welcoming back customers.
"We were very excited to wake up this morning and be able to open the doors," Matt said. "We've been struggling through this. It's not the most enjoyable experience, but it looks like things are coming back."
He said they weren't sure what to expect when they reopened. "It was nice. We opened the door and — they weren't lined up outside — but people came in in the first hour. It wasn't a complete standstill at least, which is something you worry about. People still need to get things done."
After being closed, J Longs has the last couple of weeks had customers come in by appointment. "You have funerals or something and we'd get things lined up for them."
In Old Town, on Belgrade Avenue in North Mankato and at other shopping areas the scene was similar Monday afternoon with some customers, but clearly not throngs of them, getting out to check out stores they haven't been able to go to for months.
The Walz administration continues to work on guidance for the last segment of retail businesses that have been hurt by the pandemic. Bars, restaurants, movie theaters, gyms, salons and others are all likely to be able to open June 1 with distancing and other precautions in place.
Campgrounds still closed
It appears campgrounds will not be open for Memorial weekend business. One sentence in Walz's executive order 20-56 that allowed more stores to open this week reads: "Both private- and public-developed campgrounds remain closed to recreational camping."
On Monday, "dispersed camping" did open in Minnesota state forests, the Boundary Waters Canoe Area and Voyageurs National Park, allowing those who want to sleep under the stars to do so.