Chad Larsen has voted for Mike Hastings for president in the last two elections.
His custom-made phone case depicts Nick Rivera's famous game-winning goal in the 2019 WCHA championship game. He has a pair of custom-made Minnesota State Jordan Brand shoes, as well as a massive custom-made MSU "turnover chain" he wears for each game. He says "pretty much" every shirt he owns contains some kind of MSU imagery or lettering, and his "man cave" is the stuff of Twitter legend, the walls decorated with Mavericks jerseys.
The creative posts and photos from his "Big Bag A Knuckles" Twitter account have been featured by a prominent college hockey media personality, ESPN's John Buccigross.
There's a fine line between fandom and obsession. Larsen walks it with pride.
Purple and yellow pride.
"It's almost sort of embarrassing how every opportunity I get to put a Mavericks hockey related term on something, I do it," Larsen said with a laugh.
Larsen, a 2006 MSU graduate, wasn't born into it. An Eagan native, he grew up following Minnesota sports, but no one in his family went to MSU and he's never played organized hockey.
When he arrived at MSU in January 2003, the Mavericks were in the midst of a 17-game unbeaten streak and would eventually go on to make the NCAA Tournament, so there was buzz around the program. He went to a game his first weekend as a student; a life-long love affair was born.
"As soon as I walked in and just kind of saw the arena and participated in the game, I was hooked. Right then and there," Larsen said. "It was so exciting to be a part of it. The feeling of this being my school ... I was a fan for life right from the get-go."
Like so many other fans, Larsen, an MSU Blue Line Club member, has experienced the heartbreak.
He was at the 2015 NCAA regional, sitting right behind the net to witness the legendary "Palmquist was pushed" fiasco. In the past, he's heard it from friends who cheer for Minnesota, Minnesota-Duluth and North Dakota, the punch line always being the same — "You've never won an NCAA Tournament game."
That's what made MSU's victories over Quinnipiac and Minnesota at the West Regional so special, especially the victory against Minnesota.
As Larsen's wife, Stephanie, was trying to put their two children to bed during the game, the noise from the man cave suddenly grew deafening when Nathan Smith gave the Mavericks a 3-0 lead over the Gophers with about 10 minutes remaining.
"I could hear him cheering throughout the whole house," Stephanie said. "His room is the lowest room of the house and I was all the way upstairs, and I could hear him yelling. He yelled so much he lost his voice."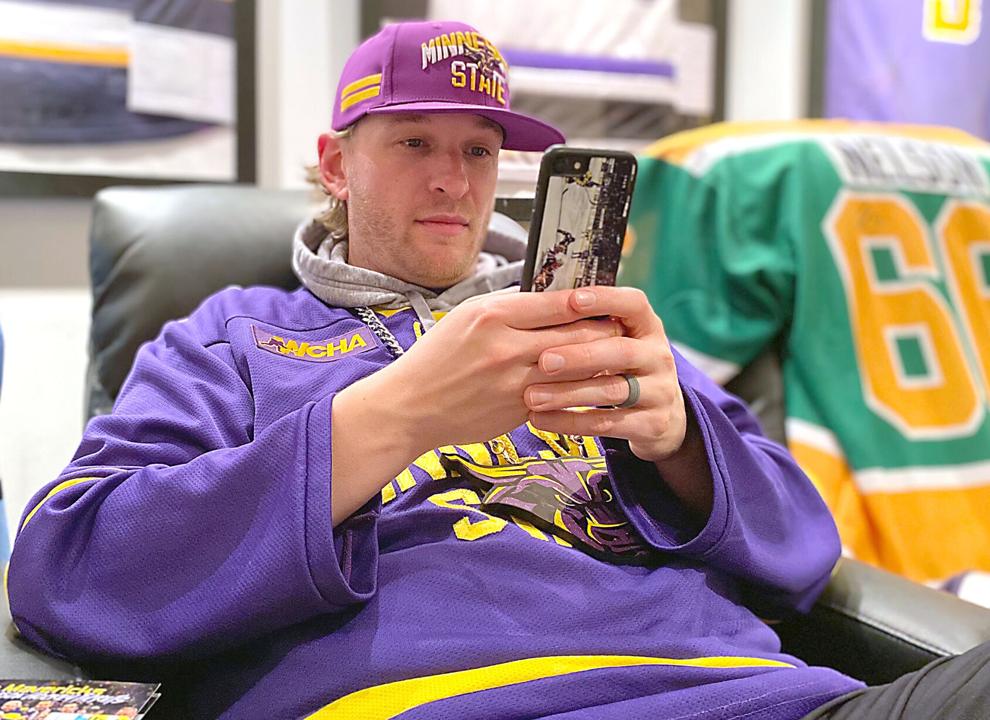 As the Mavericks closed in on their victory, Larsen simply tweeted, "Today is the greatest day of my life" — something he admits was in the moment, especially given that the Grey Goose was flowing. But he doesn't want to downplay how much this Frozen Four means to him.
"I'm 36 years old and I've literally been waiting half my life to watch the Mavericks win a tournament game," Larsen said. "That was just such a special moment and to watch them beat the Gophers and beat them in the way they did ... that was the icing on the cake."
While Larsen is unquestionably one of MSU's biggest super fans, Todd Hanselman, a 1997 MSU graduate, is in the same class.
And when it comes to his MSU memorabilia collection, Hanselman might be in a class of his own.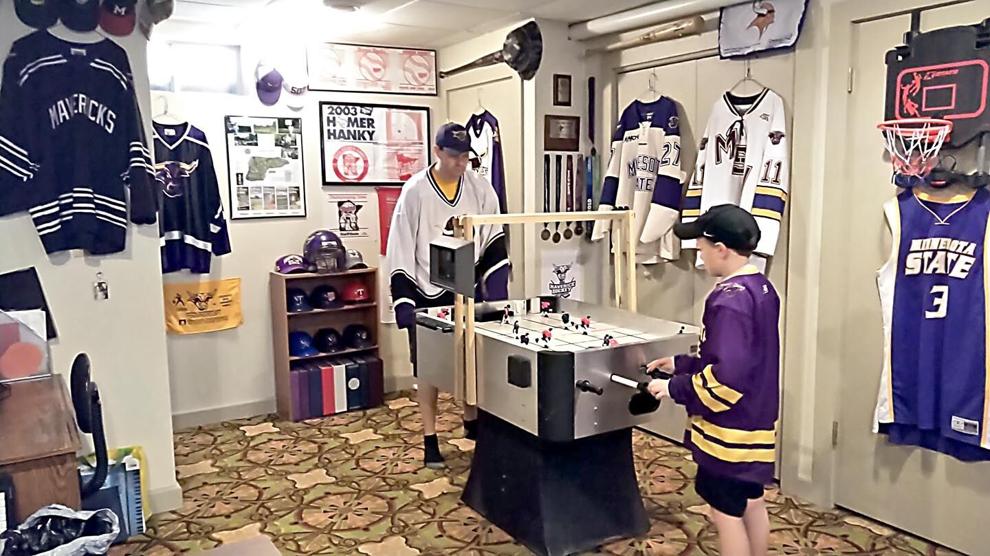 Known on Twitter as "Bobblin Mavericks," Hanselman lives up to the name, owning nine different MSU bobbleheads. He also has 13 different MSU jerseys and 17 different Maverick hats.
Since the start of the pandemic, Hanselman has gotten into collecting trading cards of former and current MSU athletes at different stages of both their professional and amateur careers.
He estimates he has about 600 of those and has spent significant time trading to acquire cards he doesn't have.
His basement is decorated much as Larsen's is, with a collection of basically everything MSU has given away at any sporting event in recent memory.
"I just like to have it out and look at it ... my son likes to look at it too," Hanselman said. "Remembering all the fun times I've had at the games ... I'm a history teacher by trade, so I enjoy kind of going back through the history in my head and saying, 'Yeah, it was a lot of fun going to those things and remembering all those players.'"
After the Mavericks lost to Providence in the 2019 NCAA Tournament, Hanselman was done.
Between six MSU NCAA Tournament losses, a 13-game postseason losing streak for the Twins and five straight losses for the Vikings in the NFC Championship game in his memory, he figured he was on a 24-game losing streak. Tack on five more Twins' postseason losses since MSU's loss to Providence and the streak was up to 29.
Enough was enough.
So as game time closed in on the Mavericks first-round NCAA Tournament game against Quinnipiac, he went to the home of a friend he knew would be watching the NCAA basketball tournament. He simply couldn't bear to have his heart broken again.
His resolution: to not watch another playoff game until one of his three teams won.
It's safe to say he'll be watching the Mavericks in Pittsburgh this weekend.
"I didn't want to watch the playoffs anymore. I just wanted to remember the good stuff about the regular season ... I didn't want to remember the bad part at the end," Hanselman said. "Finally the Mavericks broke through and I can watch the playoffs again."
"After 0-for-29 ... I finally got a win."
The Mavericks (22-4-1) play St. Cloud State in the Frozen Four at 4 p.m. today.
Follow Kevin Dudley on Twitter @Dudley7Kevin.