MANKATO — The mother of a man with severe developmental and physical disabilities is outraged the caregiver convicted of assaulting her son Friday won't see jail time.
Zachary Bostelman, 24, of North Mankato, pleaded guilty to misdemeanor fifth-degree assault at the Blue Earth County Justice Center. He received a 90-day jail sentence suspended for a year, a $700 fine and will be barred from working in a similar caretaker role.
The victim's mother, Pat Booker of New Ulm, said her family wanted jail time for what she called a "callous disregard" for her son's welfare.
"It's a total slap in the face," she said. "There's no justice there at all for him."
Her son, Keith Booker, 43, is nonverbal, has lived in a wheelchair since he was 25 and has contractures in his legs causing pain when touched or moved. Despite seizures dating back to when he was an infant causing permanent brain damage, his mother described him as a "smiley" guy who's full of life and love for his Minnesota Vikings.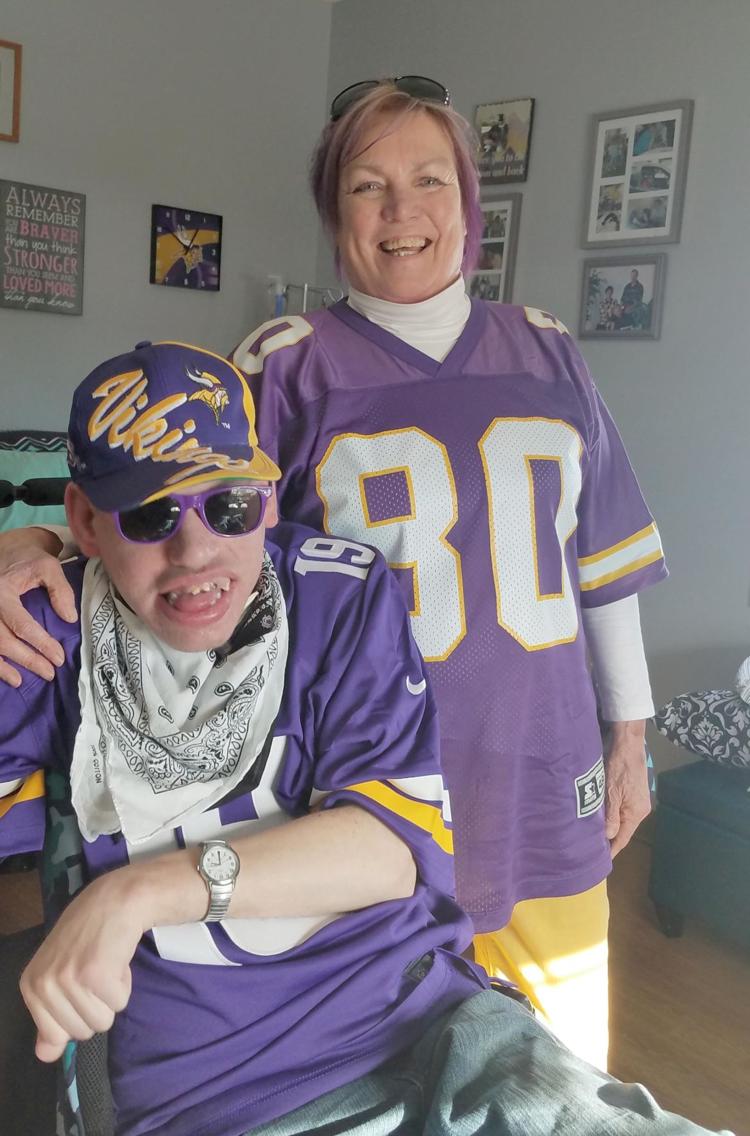 Keith Booker lives at the Autumn Grace assisted-living facility in Mankato, which is where the assault occurred in September 2017. Witnesses reported Bostelman physically and verbally abused Booker while working there, according to the criminal complaint. They accused him of forcibly prying Booker's legs open when changing his briefs and aggressively moving him around.
Booker's mother said everyone on the care team would've known her son's legs are painful to the touch and that he needed to be handled with care. A mandatory reporter alerted authorities to the allegations.
The physical nature of the accusations shocked Booker's family, but his mother said the disparaging comments Bostelman made about her son were equally hurtful. The 24-year-old reportedly told witnesses Booker was a "waste of space" and "ugly."
"It was so painful reading that," Pat Booker said. "It took me three times before I could get through it because I was crying and angry at him."
Her disgust was on display in the courthouse Friday, where she told Blue Earth County District Judge Krista Jass she wasn't satisfied with the plea and thought her family's input wasn't considered by the County Attorney's Office. Assistant County Attorney Christopher Rovney disputed this after the sentencing, while saying he understood the Booker family's frustrations.
Bostelman faced two counts of felony stalking, misdemeanor stalking with intent to injure and misdemeanor criminal abuse by a caregiver on a vulnerable adult charges, along with the assault charge. Rovney said the initial, aggressive charges were motivated by the need to remove Bostelman from his caregiver role. Bostelman was placed on leave following the incident and has since changed careers.
Rovney said the prosecution would've faced significant challenges in securing guilt beyond a reasonable doubt in a jury trial, the process the victim's family preferred. Keith Booker not being able to testify was a factor, along with the risk of Bostelman's actions being seen as within the scope of work required of him. The difficulty, as Rovney put it, would've been proving Bostelman's actions were intentionally causing harm, as any required contact with Booker had the potential to cause pain.
"We have to follow the law and do what we think we can prove beyond a reasonable doubt," Rovney said. 
He also expressed worry about a potential jury being able to follow their lawful duties after hearing the comments Bostelman allegedly made about Booker. During the hearing, Bostelman's defense attorney, Chris Kennedy, characterized the comments as "gallows humor" taken out of context. Kennedy also noted the Department of Human Services took no action against Bostelman after an investigation. 
An earlier plea agreement, which called for a stay of adjudication where Bostelman's charge would've been dismissed if he complied with sentencing requirements, fell through. Jass pointed out the difference between the pleas Friday, saying the assault charge will stay on Bostelman's record as opposed to the earlier plea.
"I'm not certain that the no jail time is appropriate, but it does certainly put time over your head in order that you're complying with orders of probation," she told Bostelman.
The assault conviction also will be enhanceable, meaning if he commits a similar crime in the future, the charge could be more serious based on the past offense. The victim's family viewed the final plea as lighter than the first one, with Pat Booker saying she doesn't believe the jury trial she wanted most was even considered.
Rovney said the County Attorney's Office did send the Bookers a notice requesting input, but received no response. The victim's and their family's wishes are important considerations when weighing prosecutorial decisions, he said.
"I'd be upset, too," he said. "I totally understand that, but I just wish she would've contacted me."
Bostelman, who had no prior criminal record, expressed remorse in the court while acknowledging his handling of Booker was excessive. Afterward, Pat Booker said she couldn't walk away satisfied with how the case was resolved. 
"I'd rather it got to jury trial and lose to a jury trial than have the county attorney, to me, minimize everything," she said.