Nearly $3.2 million in Mankato park improvements are planned for the next five years, although the long-range objective of bringing playgrounds to parkless older neighborhoods is on hold.
A new Prairie Winds Park is scheduled to be added this year to the fast-growing new neighborhood east of Highway 22 near the city's newest middle school. But plans to add a small park to the Sibley Parkway neighborhood and another just south of the Eastwood Manor Mobile Home Park were not included in Mankato's five-year construction budget.
The city's strategic plan calls for ensuring there's at least a limited-scale neighborhood park within toddling range of every Mankato home. Included in the goal is the desire to allow kids to get to their neighborhood park without having to cross a major street.
That idea demonstrated its appeal in 2018 when Stoltzman Park was created at the intersection of Stoltzman Road and Pleasant Street, bringing a playground and other park amenities to the Lincoln Park neighborhood — one of the city's oldest. The park's popularity has been obvious from the start, drawing swarms of youngsters and their parents to the playground, even in the winter months on milder days. The park now also includes a miniature soccer field, basketball hoops and a picnic shelter.
"It is very nice to have a park within stroller distance," said Crystal Jaren after a December visit to the playground with son Roscoe, 7, and daughter Nora Lee, 4.
The family has lived on Center Street for three years, so they were there for the park's construction and opening. Jaren said the Lincoln Park neighborhood was appealing for its 150-year history even though, despite its name, it has never had a traditional park.
"We love the old houses and the trees," she said. "There's just so much charm in the older neighborhoods."
Playgrounds, however, weren't really a common concept in the first century of Mankato's existence when many neighborhoods were built. And when neighborhood parks became a popular part of new subdivisions, the older sections of town were often so built up that there was no piece of land to add a playground.
City officials are trying to fix that. Land has been identified to add neighborhood parks to other parkless parts of town.
"I think it's an important priority because parks are gathering spaces," City Manager Susan Arntz said. "When you have that space to connect, that's what helps you link more strongly to your community."
In the Sibley Park neighborhood, the plan is to bring a playground and trail to a vacant city-owned parcel at the southeast corner of Rogers Street and Sibley Parkway. While a large farm-themed playground is nearby at Sibley Park — one of Mankato's largest — that playground draws families from throughout the city, even throughout the region.
The new park would be closer and less busy for children in the longstanding lower-middle-class neighborhood and in the dozens of new apartments and townhomes that have sprung up along Sibley Parkway in recent years.
The Sibley Parkway Park, originally planned for 2021, is no longer in the city's five-year plan.
"The Sibley Parkway project did get put on hold," Arntz said. "We had $120,000 programmed for it and will likely need more funding."
Another park was tentatively planned for municipal land southeast of the Public Works Center at the intersection of Victory Drive and Hoffman Road. Just south of Eastwood Manor, the park would provide a playground for the mobile home park and for the residential area south of East High School. That park, too, is not included in the five-year construction plan approved by the City Council last month.
That means those parks might have to wait until at least 2026.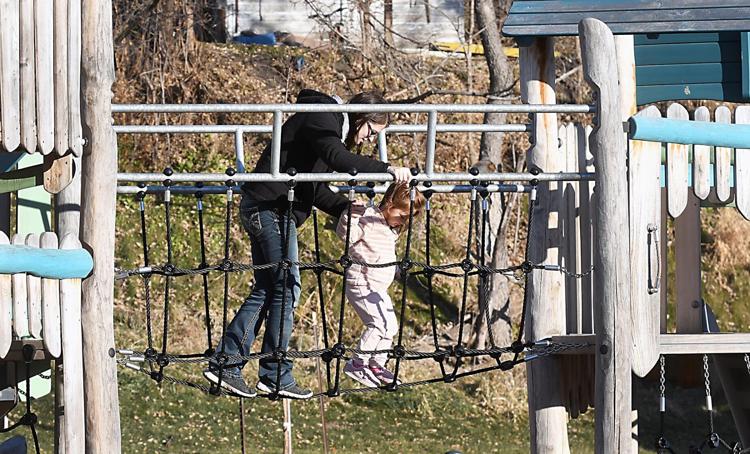 "Most likely it's probably '26," Arntz said. "... But we do review them all the time to see: Is there a way to do more of these projects?"
While bringing new parks in old neighborhoods is still a priority, the cost of adding new parks has to be balanced with the competing goal of maintaining and modernizing existing parks and adding parks in new subdivisions.
This year more than a half-million dollars are targeted at parks east of Highway 22 on Mankato's expanding eastern edge. More than $350,000 is slated for the creation of Prairie Winds Park on the city's southeast side, where apartments, townhouses and single-family subdivisions have been popping up following the opening of Prairie Winds Middle School in 2016. Plans call for a playground, a picnic shelter and a half-court basketball court.
And a new restroom building for Trail Creek Park, which is on Augusta Drive on Mankato's northeast side, is also in the current year's budget. The $180,000 prefabricated building with plumbing will replace the port-a-potty now in the park, a facility that's particularly inadequate because of the number of day care providers in the neighborhood.
"Many of these providers take the children to the park on a daily basis, which creates a very busy environment," the city's Community Investment Plan explains. "While at the park, the only restroom facility is a portable restroom which prevents the child care provider from supervising the other children while supporting younger children in their toileting needs."
Trail Creek Park is also a trailhead for people using the Sakatah Singing Hills Trail. Along with the new restroom, the park will get electrical service to its picnic shelter for the first time.
In addition, the five-year plan prioritizes new playgrounds at older neighborhood parks, something that's been accomplished already in the Washington Park, Germania Park and Highland Park neighborhoods, among others. The new gear meets modern safety standards and has elements that are accessible for people with disabilities.
Erlandson Park is to get $200,000 in new playground equipment in 2023. The following year, it's $150,000 for Land of Memories, where the playground will have a Native American theme in recognition of the annual powwow held at the park. Buscher Park and West Mankato Park are in line for playground upgrades in 2025.
As the city creates new playgrounds and brings modern equipment to existing ones, park user Jaren has just one suggestion: Make sure there's equipment sized for preschoolers. Stoltzman's playground is great for her son but isn't "little-kid friendly" for tots her daughter's age, she said.
Even with her one complaint, she applauds the effort to ensure every Mankato family has a nearby park.
"It's so much nicer when you can walk places. You don't always have to get into a car," Jaren said. "Especially in these times, it's so nice to be able to just go for a walk and have a destination."