Watching a century-old tradition of faith in action is to witness a well-oiled machine with humans acting as the parts.
Mennonites and Hutterites, wearing old clothes, long rubber gloves and butcher aprons, showed up in mid-November for a fall tradition: canning meat for charity.
About 12,000 pounds of chicken were processed at this year's project on the grounds of an independent Anabaptist community 8 miles southeast of Mountain Lake.
Dozens of hands manned a temporary assembly line. Men carried hundreds of pounds of raw poultry in tubs and used forklifts and specialized metal dollies to haul sealed cans back and forth across the cavernous space. Women moved the meat along its path to a mobile cannery set up next to the building. Children cleaned off cans and labeled them.
"We finished with about 7,900 cans of chicken ... They will be shipped all over the world," said Wes Kroeker, a member of the project's local organizer, Community Bible Church in Mountain Lake.
Elmendorf Christian Community provided the spacious facility for the Mennonite Central Committee project and several of its members offered their time and energy.
Duties were orchestrated by the young men traveling with the mobile cannery along its annual route throughout several eastern and Midwest states and into Ontario. One crew member Kendall Weaver, of Wooster, Ohio, took on the responsibility of tending the giant pressure cookers used in the steaming hot canning process.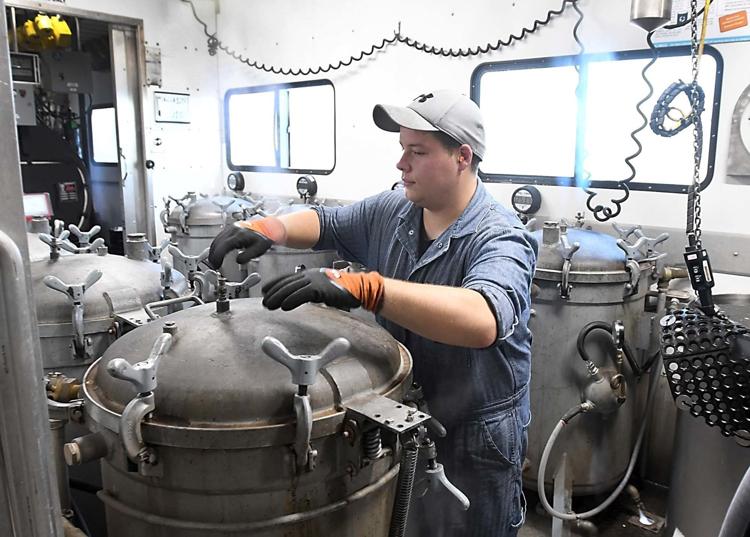 Demonstrations of faith through service to others may be messy at times, or require long hours as part of a beehive of activity in a work space too noisy for chit-chat.
Children's giggles rose above the din. The little ones who darted between the long skirts of their kerchiefed mothers brought smiles to the faces of kitchen workers as they prepared lunch in a room separate from the canning operation.
Elmendorf school teacher Dennis Wurtz granted his sixth graders a few hours off from classes to help. "It's part of their education," Wurtz said.
The students shared work space cleaning and labeling cans with a small group of older women who sat quietly at a table as they stitched brightly colored quilts for a related relief program.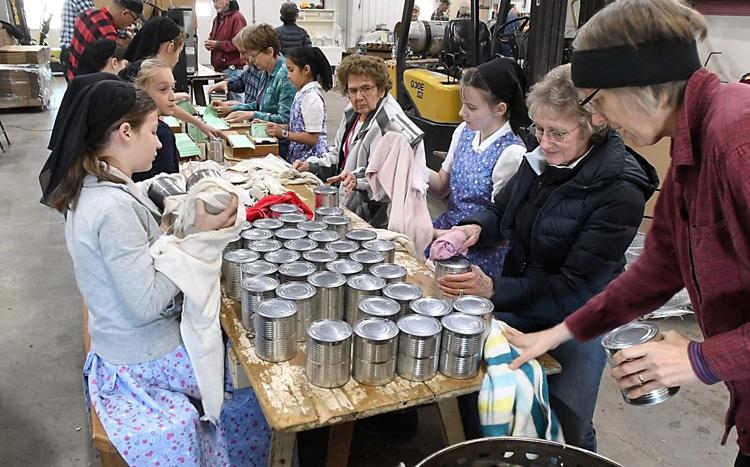 A shortage in manpower in 2018 made a canning project impossible for the area volunteers. This year, organizers went online to ask for help.
First-time volunteers Phil and Kim Leichty traveled from Rochester for their one-day shifts. The relief effort, they said, helped them appreciate where their food comes from and to be grateful they have plenty to eat.
"We felt we'd been part of something remarkable," Kim said. "I'd much rather give my work than write a check."
Phil's volunteerism was prompted by childhood memories, he said. His shift at Elmendorf provided him with a hands-on connection to his heritage. "I remember my parents participating in canning."
During World War II, Mennonite conscientious objectors served not as soldiers, but as firefighters in California or they assisted patients at mental hospitals throughout the United States.
"We began to send food to our boys," Community Bible Church's unofficial historian Gordon L. Harder said, describing the genesis of the Mennonite Central Committee's canning project.
His daughter, Elisabeth Harder Schrock, and her husband, Ramont, organized volunteers for the recent event at Elmendorf.
The Harder Schrocks took a break from canning to talk about their church's relief mission.
Ramont said the diets of people in war-torn countries rarely include meat. "They may be able to grow vegetables, but protein sources are scarce."
Elisabeth recently returned from serving as a Mennonite Central Committee liaison in Ukraine. She worked with local officials and organizations to make sure food donations pass customs inspection and are delivered to the tables of hungry Ukrainians.
Elaine Kroecker, Wes' wife, said boxes of cans, quilts and other items are distributed throughout the world by an organization that dedicates most of its resources to providing relief.
She then described a West Coast volunteer project that provides kits containing clothing and hygiene products to immigrants and asylum seekers at the U.S.-Mexico border and to immigrants released from detention facilities.
"We have so many stories to tell," Elaine Kroeker said.
Her brother, Merrill Ewert, came across a relief box from Mountain Lake when he was on a two-year mission to Kajiji, Congo, in the late 1960s.
"I was managing a warehouse in an area that had just came out of a devastating civil war," Ewert said from Arizona during a phone interview.
The people he was there to help suffered from malnutrition and a lack of protein. To reduce the spread of tuberculosis in the hospital, staff initiated a feeding program to strengthen their patients. The food supplies came from various sources, including U.S. churches.
"One day, I opened a case and saw that the meat had been canned by the Mennonite churches of Mountain Lake, Minnesota. It was such a powerful moment for me that I halted the distribution and explained to everyone that this meat came from the people in my church and my community. The meat had been canned by my friends, neighbors, and even by my family."
Mennonite Central Committee's first feeding operations in 1922 focused on helping relatives who had migrated from Holland to a region in southern Russia, now known as Ukraine, to avoid persecution. These German-speaking Mennonites were in Russia when the country's political climate changed. They suffered under Stalin and his ban on organized religion.
To ease their relatives' lives, Mennonites living in America's heartland sent food, farm tractors and livestock overseas.
"When cattle were sent, young Mennonite men boarded ships to tend to the animals," Gordon L. Harder said. "Imagine what that was like for a young man from Minnesota to go on a ship overseas."
Over the decades, Mennonite Central Committee's relief projects have included the production of canned beef and turkey. Deboned chicken was purchased for the 2019 canning event.
Wes Kroeker's last duty for this year's project was to drive a semi loaded with "all the stuff we need to can" back to his farm for storage.
A second truck driver was tasked with transporting boxes filled with the recently processed chicken to a regional warehouse at North Newton, Kansas.
The boxes will later be stored at Akron, Pennsylvania, until they are shipped to people in need.
Elisabeth Harder Schrock said meeting and talking to the project's overseas recipients have left a lasting impression for her.
She's seen relief quilts in use at hospitals and nursing homes in the Ukraine. "They brighten up places that are so dreary."
She's asked representatives of the countries served by Mennonite Central Committee if monetary donations would be a better way to supply food for their hungry. Their responses indicate donated cans of meat from rural Mountain Lake are appreciated more than cash.
"What they hear from people is, 'We know somebody cares for us.'"