NORTH MANKATO — Fans stood at attention as the Australian, Chinese and United States national anthems played in succession before the first National Pro Fastpitch game of the season in North Mankato Sunday night between the Aussie Peppers and the Beijing Shougang Eagles.
Aside from the love of the game, the international presence was a big part of the the draw Sunday, with hundreds of fans packing into the overflowed bleachers as a live band and food trucks provided entertainment before the first game of the season for the area-adopted Aussie Peppers. 
Jenna Lee, an avid fast pitch softball fan, grew up playing the game herself and appreciates the intense, fast-paced teamwork of the sport. She's been following the rise of women's National Pro Fastpitch teams on Instagram. When she discovered a professional Australian team was going to be based out of Mankato for the season, she convinced her parents to travel with her from Des Moines to see them play in person.
When her dad, Kenny Lee, heard the other team competing at the season opener was from China, he was immediately intrigued. So the whole family piled into their car to make the three-hour drive up to Mankato, a city they'd never been to until Sunday.
"We wanted to get a chance to watch two international teams to see how that goes," Kenny Lee said.
While there were plenty of locals in full force to support the Aussie Peppers, who have Eagle Lake native Coley Ries on their roster, there were just as many others who traveled from out of town to witness a national league team based out of Mankato. Last year, the Beijing Eagles played against the Chicago Bandits, the team Ries played on, at Caswell Park in North Mankato.
"It was a big event when we came here last year," said Daniel Chavez, of North Mankato "With a lot of people coming from out of town to see this, I think it will bring a lot of business."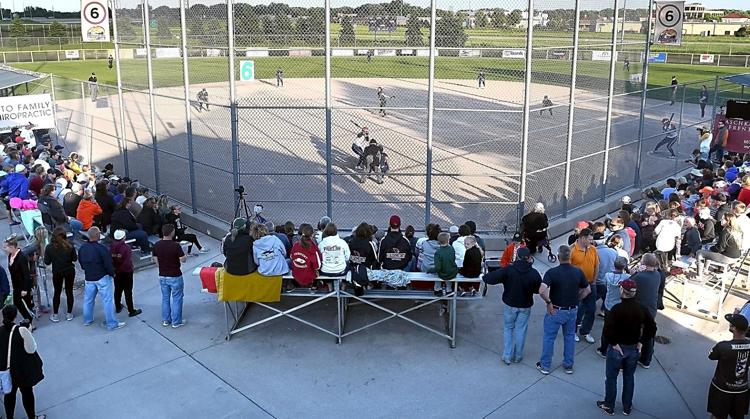 Cassie Heinrichs, who played the game during her four years at St. Mary's High School in Sleepy Eye, has fond memories of playing at a tournament at Caswell Park full of people from other states and countries. She met players from Canada and Alaska back then and said it was her favorite memory of playing softball.
When friends who play for the Mankato Peppers, the team that invited the Australian players to spend the season in North Mankato, told her about the new home team, she was thrilled.
"I'm obsessed with Australia," Heinrichs said. "So everybody came to me and they were all freaking out about it, and I said, 'We have to see this.'"
Sunday's game was the first of a dozen games between the Aussie Peppers and competing professional women's fastpitch teams coming to Mankato from places like Chicago and Cleveland to play here this summer.
Sheila Lewis came up from Amboy with her friend Joan Morrison after a mutual friend won tickets on the radio and couldn't make it, so they got the tickets. Lewis said she's a big fan of the Minnesota Gophers women's softball team and didn't want to miss the Aussie Peppers first game of the season. Morrison was curious to see two international teams play.
"We're just looking forward to being out in the community and seeing what the Aussie Pepper's are all about," Morrison said.
Sisters Karen and Marian Norell from Darfur try to make as many games as they can, and they set themselves up in lawn chairs 20 feet from first base. Former players themselves, this is the second game they attended Sunday. Their friend Katie Hemme drove up from Luverne near the South Dakota border to meet with them and spend the day at Caswell Park.
"We were just over here this afternoon watching the all-state game," Karen Norell said. "We were here Thursday and Friday for the state tournament."
Norell said she and her sister are old softball enthusiasts, playing themselves years ago out of New Ulm and Sleepy Eye. She said it's exciting to see professional teams playing in North Mankato and how some will go on to play in the 2020 Olympics in Beijing.
As soon as Norell heard the Aussie Peppers were going to be based here, she kept checking the internet for early bird tickets. She snatched them up as soon as they became available, as she sees it as another way to support women in sports. Hemme agreed, adding it's been fun to watch the growth of the sport in southern Minnesota.
"Softball is a great game," Hemme said. "I never had the chance to play, but it's been exciting to see the high school kids and then the college kids and now to the chance to see the women have a chance to be in a higher level and this close is great."