Area consumers weren't in a vehicle-buying mood early in the pandemic, but recent months have seen sales at or slightly above sales for the same period last year.
"March and April really put the brakes on things. But honestly, after the first half of May, it started to improve. It's not back to where it was last year in volume, but it's been pretty good," said Kerry Lindsay, manager of Luther Honda in Mankato.
"There is no one I know up year over year. But as scary as it was in March and April, I think everyone is pretty happy where we're at."
Based on local sales tax information that tracks vehicles sold by Mankato dealers, 10,197 vehicles were sold through the end of October. That's down 500 vehicles from the same period last year. That 5% decline is a significantly smaller drop than in much of the rest of the state.
Scott Lambert, president of the Minnesota Automobile Dealers Association, said sales are down statewide.
"We're down about 20% year to year, maybe a little bit more. It's been down all over. We've been chasing last year's numbers."
Lambert and local dealers say a part of the slowed sales was due to a shortage of inventory.
"GM was recovering from a strike and then the pandemic hit," Lambert said. But a shortage of vehicles and parts hit all auto makers. "All the lines building vehicles blinked on and off."
He said auto sales typically slow after Christmas. "I would expect the factories will catch up in January and February, and hopefully it will get back to normal in March and April.
Lindsay said that as sales picked up, the available inventory got thin. "We were almost out of new cars at one point. July and August the lot was looking pretty bare. But now it's replenished. It seems like factories are starting to catch up."
Dealers also have faced a lower inventory of used vehicles because people weren't trading in as many as new vehicle sales fell.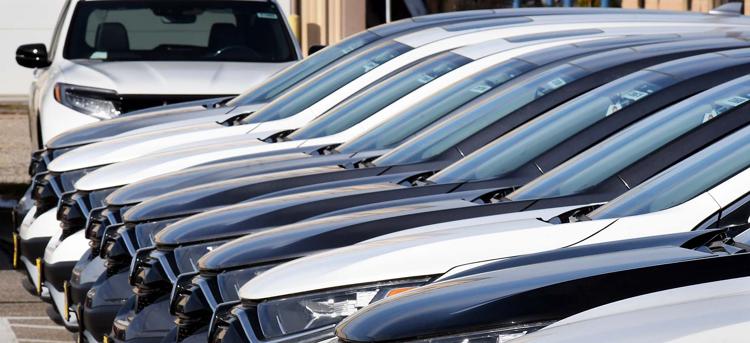 And repair work also slowed through the early summer as people were driving their vehicles less during the pandemic.
"On the repair side it was slow for those first months, but it's improving now," Lindsay said.
He said buying patterns haven't changed. "The small SUVs and the larger SUVs drive sales. We sell more of those than anything else. They have room, four-wheel drive and good gas mileage."
Minnesotans' love affair with pickups and SUVs has been building for years.
Lambert said 86% of all vehicle sales are "trucks," which includes pickups, SUVs, crossovers and vans.
"We lead the nation in truck sales. They're built like luxury vehicles inside and are getting better gas mileage. I have a dealer in Mankato who says they sometimes go months and don't sell a sedan."
Lambert said trucks fit the state. "It's how Minnesotans live and work. I don't see that abating. People are used to bigger vehicles, it's safer in the winter and people can haul things, snowmobiles, ATVs, their boat," Lambert said.
California concerns
Other than hoping for a return to normal inventory and sales, Lambert said the big concern for his members is a pending push by the Walz administration to adopt stricter emissions standards.
Under federal law, California is the only state that can set its own auto emissions standards. Other states can choose to either follow California's rules or use less stringent standards set by the federal government.
Gov. Tim Walz last year said he intends to adopt California's standards that promote low-emission and zero-emission vehicles, which would make manufacturers produce more electric vehicles and fuel-powered vehicles that pollute less.
"We're concerned about the governor moving us into California regulations," Lambert said. "It'd push us into electric vehicles, which are very slow sellers."
The Minnesota Pollution Control Agency has been working on proposed rules, but the pandemic has slowed the process. After the proposed rules are released, there will be a public comment period where dealers can lodge their concerns and proponents can weigh in. "With the pandemic the comment process would be difficult, so I think the pandemic has slowed the process down," Lambert said.
Walz says that following the California rules would cut greenhouse gas emissions and fight climate change and would give Minnesotans many more options for electric and lower emission vehicles.
Dealers argue adopting the rules would increase up-front costs of vehicles, and that once tied to California rules, Minnesota would be forced to follow other tough emission rules approved by California.