Last year, when 12 senior dancers from Mankato East Senior High School's East Dance Company graduated, some wondered whether such a mass exodus would adversely affect the group.
Then came tryouts in November and, as expected, the dance group wound up with one of its smallest classes ever — and no freshmen.
But instead of casting a pall over the season, it invigorated them. The 21 dancers on this year's team realized the smaller number of dancers gave them more room to express themselves, more room to groove. It also made it easier to bond, easier to — in these few short months — become the family they need to become to put on their best show.
The Mankato East Dance Company next week will stage its annual showcase event in the school's auditorium. The show, called "Just Dance," is made up of 20 dances, all choreographed and performed by the students. They'll perform shows next week on Thursday and Friday, and two shows next Saturday.
"We do have a smaller group this year," said Lindsey Northenscold, one of the team's coaches. "It'll be exciting to see what a smaller group can do. … It does feel like a tighter group, too. And I've been really impressed by the choreography."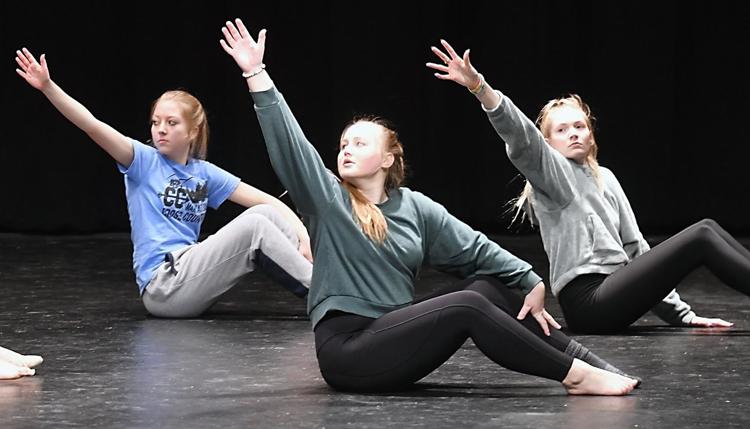 This year's team has four captains: Autumn Schmeling, Lexi Tweeten, Emily Geisthardt and Keyana Wunsch. Two of them — Schmeling and Tweeten — have been best friends forever. Both said one of their main attractions to dance is the "fun" aspect.
"I love performing and having fun and expressing myself," said Schmeling. While the group will perform various styles of dance, she said she prefers the hip-hop style. "It makes me feel powerful. And it's (the style) I do best."
Tweeten says she's also liked that this year's group has been small-ish, though she's not sure why. Perhaps, she says, demand for their time from other activities such as sports or the arts, causes fewer people to try out for the dance team, which requires several hours of practice daily, including Saturdays.
Whatever the case, Tweeten says the smaller group this year has been a blessing.
"There's been a lot less drama," she said. "And it's easier to stay focused with less conversations happening."
Geisthardt is certainly no stranger to the dance floor.
"I've been dancing since I was, like, 1," she said.
Like Schmeling, Geisthardt says she likes being able to express herself through dance. One particular dance, she says — where most of the girls are on the stage and they're all dancing to a Lady Gaga medley — gives her a sense of empowerment. Being surrounded by other girls who feel the same way enhances that feeling.
"It makes you feel powerful and strong," she said.
(One of the dances choreographed by Geisthardt will be in tribute to Gretchen Adams, who died suddenly of an illness in 2017 just prior to graduating. An empty chair, where girls will place roses, will symbolize her passing.)
Wunsch doesn't have the extensive dance experience of the other captains. But she makes up for it with passion and a vivid personality.
She said she taught herself to dance in her kitchen, sometimes getting a little too close to other kitchen-goers with twirls and spins. She watched YouTube videos to learn new dances. And finally, after several years of kitchen dancing and begging for lessons, Wunsch's mother relented and agree to dance classes at Dance Express.
Like the other captains, Wunsch has been on the team for four years. She says her favorite part of participating in this activity is showtime.
"I love performing," she said. "Making up a move in your head and seeing it all come together in the end can bring tears to my eyes."
Coach Nancy Kowalski said this group of girls have created a show with tons of variety and something for everyone. The show also includes a "daddy-daughter" dance, and a dance where the girls do a choreographed dance with boys. Four emcees will help fill space between dances with banter and interviews with the East Dance Company dancers.