John Michael Odegard's path was different than those before him in the Southeastern Minnesota Synod, a collection of 117,000 baptized members and 117 congregations representing the Evangelical Lutheran Church of America.
A carpenter by trade, Odegard began his journey towards becoming a pastor through volunteer work at Bethlehem Lutheran Church in Mankato a dozen years ago. That experience would provide a foundation for what was to come.
"I served for seven years there working with children and families," Odegard said. "I did a lot with the high school youth program. I just volunteered and saw that I was getting a lot out of it myself. The families were asking, 'Why are you still a carpenter? Why don't you do this for a living?' And I started to realize that was God's way of pulling at me and drawing me in."
Odegard was officially ordained and installed as pastor at Grace Lutheran Church in Mankato Sunday.
Outgoing Grace Lutheran Church pastor Scott Olson said the church underwent a strategic planning process seven years ago; that included the decision to call a minister for discipleship and faith formation, whose focus would be on the spiritual growth of the congregation.
"John was one of the candidates and we felt he was the best fit," Olson said. "That was five years ago."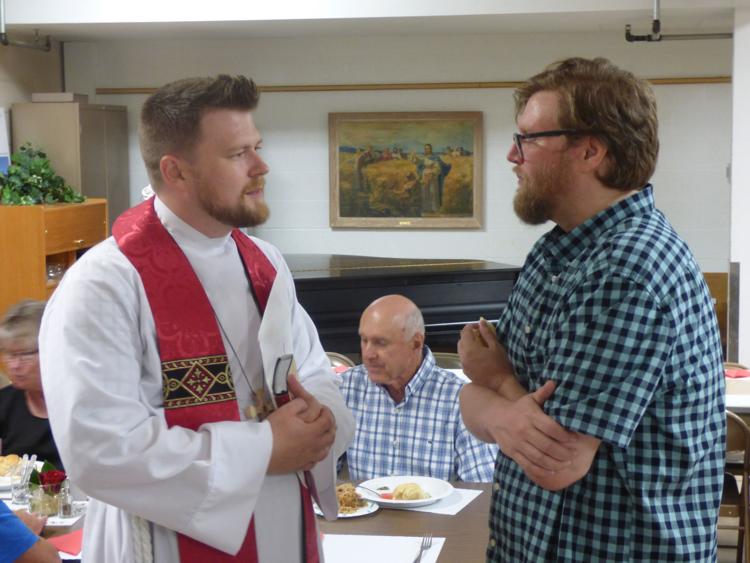 On Sunday, Olson went from layperson to clergy as part of an alternative path to becoming a pastor. That process began three years ago. The synod's Theological Education for Emerging Ministries (TEEM) program was created to help laypeople perform some of the main duties of a pastor, such as leading sermons, while undergoing seminary work to eventually become ordained and installed within the church.
TEEM was first intended to help emerging churches, or these struggling with limited membership, but the synod allowed Odegard to participate in the program so he could learn on the job while taking primarily online classes at Wartburg Seminary in Iowa. With a family of his own, it would allow less disruption as he studied and worked.
"Because of John and the work we've done here, there are other people that are now entering the TEEM program," Olson said. "We're proud of how we have been able to demonstrate that this is a really important path to ministry."
As part of the program, Odegard took part in clinical pastoral education, a requirement of all pastors in training. Part of that involved serving the local community through hospital visits, nursing home devotionals and funeral services.
He also spent about seven weeks meeting with inmates from the Stillwater Correctional Facility who were in charge of the prison's restorative justice program. Run by inmates, the program seeks to connect offenders with their victims to face the damage they have caused and begin the process of healing for both.
"I got to see how meaningful it can be to have an opportunity for repairing that harm between both the victim and the perpetrator and how it can benefit both sides," he said.
Olson said part of the appeal of Odegard as a pastoral candidate was that he had unique strengths and abilities that would complement the church as a whole.
"He has the ability to strike up a conversation with somebody right off the bat," Olson said. "His strengths are the ability to relate to people, the ability to adapt and develop people which have made him a perfect fit for his role as pastor here."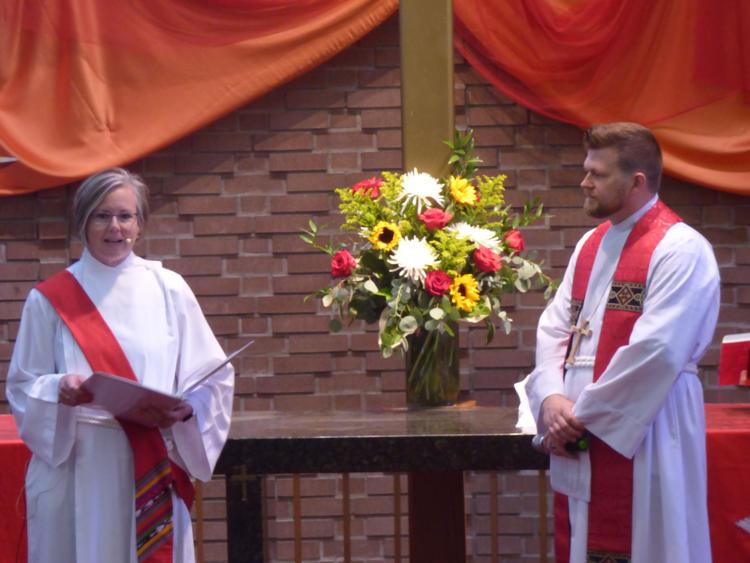 Avis and Stephen Woehlre of Mankato agree. The couple have been members of Grace Lutheran Church since the 1960s. Avis Woehlre said she and her husband had a good feeling about Odegard from the first time they met him.
"We've known him since he was at Bethlehem," Avis Woehlre said. "He had our vote from the very beginning."
Stephen Woehlre, a retired university professor, compared Odegard's evolution from theological student to pastor to that of a caterpillar turning into a butterfly. He said TEEM has proved to be a real success story for Odegard's development, especially with his ability to deliver sermons.
"It was a metamorphosis," Stephen Woehlre said. "He came out of the cocoon and the guy just blossomed. The guy was just fantastic in his delivery, projection and his control of scripture."
With Odegard at the helm, Olson will be leaving his pastoral position at Grace Lutheran Church to help congregations in transition. He said the church is devoted to serving the wider community; through sheltering the homeless in the winter to growing food in their community garden. Odegard plans to build on that foundation.
"Through the process of our transition period and identifying our core values over the last year, community came up over and over again as important to the congregation," Odegard said. "As pastor I feel like I'll have more opportunity to deepen that."