Kevin Paap made his debut this week as the newest Blue Earth County commissioner after winning the seat opened up by the retirement of Will Purvis.
Other commissioners said that they looked forward to getting a rural perspective from Paap, the lone farmer on the board.
Early in the meeting he hinted he was ready to do just that. When the board was asked by County Administrator Bob Meyer to approve a long list of routine bills paid by the county, another commissioner told Paap this was the time where commissioners sometimes played "stump Bob" by asking him about details of some of the dozens of bills.
Paap said he was saving his time for later in the meeting "to talk about the bounty."
The "bounty" was an annual ritual of the County Board setting the bounty price for pocket gophers and striped gophers, which are officially called thirteen-lined ground squirrels.
For the uninitiated, gopher bounties have been paid by rural townships across the state for more than a century.
Meyer asked the board to set a $1 per gopher reimbursement to townships in the coming year.
Paap offered robust and nostalgic support for the program. As a farm kid, he and other boys spent a lot of time trapping gophers and said it's a tradition a lot of farm dads and grandpas hand down.
"I spent a lot of my time with a Cool Whip container in the freezer with a lot of gopher feet in it," Paap quipped.
The feet are the proof, presented to the township supervisor, of the rodents being killed so the bounty can be paid to the boys who trapped them.
The board was being asked to set this year's bounty reimbursement to townships at $1 per gopher.
When asked if he recalled how much the bounty was decades ago when he was trapping gophers, Paap said he remembered it well. "It was $1."
Commissioner Mark Piepho, noting the unchanged bounty fee, said, "We're getting our money's worth."
Piepho joked that commissioners often spend more time talking about the oddity of setting gopher bounties than on many other annual budget items.
Meyer noted the annual budget for gopher bounty reimbursements is $100 a year — out of a county budget of $114 million.
The board approved the bounty budget unanimously before moving on to more weighty, if less entertaining business.
Bounties for gophers, as well as ground hogs, crows and in the past rattlesnakes, have been enshrined in state law. Since at least 1904, state statutes on bounties were set and they've been updated ever since.
The 1904 statute noted that "The bounty shall in no case exceed five cents for each pocket gopher; three cents for each common gopher or ground squirrel ... (or) 50 cents for each rattlesnake."
Ground squirrels eat crops, can damage plants and trees, and lead to deterioration of roads as they burrow.
While the striped gophers are cute little things, the pocket gopher — with its hairless tail, large beaver-like teeth and gray coat — lacks any cuteness factor. Many people have never seen a pocket gopher because they spend virtually their entire life digging underground. Those little mounds of dirt you might see in road ditches, or even in your yard, are courtesy of pocket gophers.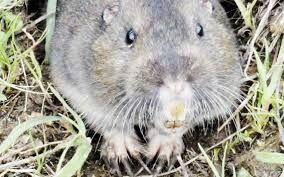 While it may seem it is only a piece of nostalgia, the bounty market on gophers is a hot one. Many townships pay $3-$5 per gopher. It appears most townships don't bother seeking the $1 reimbursement from counties as the paperwork is more work than it's worth.
Entrepreneurial farm kids can double dip on their trapped gophers. While the feet go to the township, kids can save the tails to sell as well. For decades Mepps has paid for striped gopher tails for use on many of their fishing lures.
In recent years there also has been bonus money added to Minnesota townships' bounties, courtesy of telecommunications companies.
Some telecommunications firms offer to double the bonus in an effort to limit damage done by pocket gophers. Like beaver, pocket gophers' long teeth continually grow and they need to chew on hard things to keep them worn down and sharp.
Turns out the pocket gophers have developed a taste for bundled fiber-optic wires. The underground cables are wrapped in an outer jacket, but pocket gophers still gnaw through the armored coating, costing telecommunications companies a lot of money in repairs.
So, have at it kids, trap those gophers. It's a fun outdoor activity with a lot of tradition. And you can get some decent pocket change.
Tim Krohn can be contacted at tkrohn@mankatofreepress.com or 507-344-6383.