The Free Press
MANKATO — To label Irene Seppmann as eccentric would be accurate, if incomplete.
"She had lots of talents, in lots of directions," said lifelong friend Ruth Otto of Mankato after Seppmann's death in 2008 at age 92. "She was a colorful character, and she was up for anything," said Otto, who died in 2013.
Seppmann led a full and eclectic life. She operated beauty salons in Mankato and New Ulm, had a parade float business and was matriarch of the defunct Cat N' Fiddle Supper Club in rural New Ulm.
Seppmann's ancestors in 1862 built the historic Seppmann grist mill that still stands in what is now Minneopa State Park.
Seppmann, however, was not a run-of-the-mill rural resident. She set herself apart with theatrical wardrobes and flowing tresses.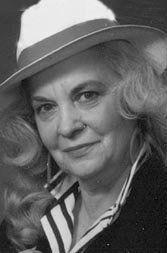 "She liked big hats and bright colors," said sister-in-law Arline " Sweetie" Seppmann after Irene's death.
Also furs — before and after they were controversial.
"You didn't ever see her in anything that didn't look like it was dead," Arline Seppmann said. "And if people protested, she'd probably tell them off. She was raised on the farm, and she felt that what was right was right."
As a beautician, she delighted in giving friends manicures and the like at no charge. And as a restaurateur, she'd take joy in providing special fare to favored guests.
Seppmann's clothing choices at times bordered on performance art, Otto said.
"Just like an old crow that likes anything sparkly, she loved her diamond rings. And one spring, she dressed top to toe in pink — and dyed her poodle pink."
Christine Schulz said Seppmann could be stunningly bold as well, perhaps befitting someone whose mother dabbled in race-car driving circa 1916. When Schulz was 10 she visited the supper club with her parents. An older woman was playing the organ for diners, and Schulz's mother commented to Seppmann that her daughter could do better.
"Irene told the lady, 'Get off the organ bench,' and she put me up there and said, 'Play something,'" Schulz said.
The child played. Seppmann was pleased and hired her on the spot, never mind that Schulz had to get special permission from the governor to be a 10-year-old working in a liquor establishment.
Schulz said Seppmann's theatrical nature also served her well in quick-change chameleon moments.
"She wanted food prepared a certain way, and if it wasn't right, she'd go into the kitchen and swear a blue streak. Then she'd come back out and be perfectly charming to everyone. She'd do a complete Jekyll and Hyde."
This story by former Free Press writer Brian Ojanpa originally was published in 2008.