At Prairie Winds Middle School, students this summer are dabbling in architecture before they choose another potential career path to explore.
They are designing tiny houses and doing other extra activities that go beyond a typical summer school experience.
Other Mankato area summer programs also are trying new approaches as they welcome more students this year in the wake of the pandemic.
Participation is up significantly and doubled in some cases in Mankato Area Public Schools, St. Peter Public Schools and Loyola Catholic School.
Like any other year, many of the attendees received targeted invitations based on teacher recommendations, test scores and failed classes. But this year some school programs also were opened up to any family that wanted some extra time in school following a second year of pandemic disruptions.
Extra federal funding is allowing schools to not only provide essential services for all those students but also provide extra supports and enrichment.
The summer students have additional support that includes more teachers and access to social workers and counselors. And students are learning more than math and reading.
Leaders of some summer programs serving younger students say the focus is not on catching up but on giving students a jump start on the year ahead.
"We're using an acceleration mindset instead of remediation," said Principal Scot Johnson, who oversees elementary summer school for Mankato Area Public Schools.
"We're building the scaffolding to what they will need to succeed in the coming year," said Dakota Meadows Assistant Principal Kai Sill.
At Prairie Winds and Dakota Meadows, the session is no longer called "summer school." Students attend "summer enrichment."
In addition to the traditional reading and math classes, Dakota Meadows students have art and technology classes. At Prairie Winds, students have physical education and career exploration.
Middle school summer enrichment this year runs for four hours a day, four days a week for five weeks.
Throughout each multifaceted morning, its overseers say students are engaging in more hands-on and collaborative-learning activities.
Prairie Winds students are designing interiors and exteriors of tiny houses and writing brochures about the benefits of living within a small footprint. Along the way they are learning language arts skills including persuasive writing and math concepts such as area and perimeter.
Incoming seventh-grader Natalie Boerger said the persuasive writing is the most challenging for her. She's still brainstorming but is planning to write about how much less expensive the utilities cost for tiny homes and about how easily the homes can be moved.
Natalie still would rather have all of her days open for watching movies, playing outside and other summer fun. But school only in the morning isn't so bad, she said. Physical education class is her favorite part of her mornings.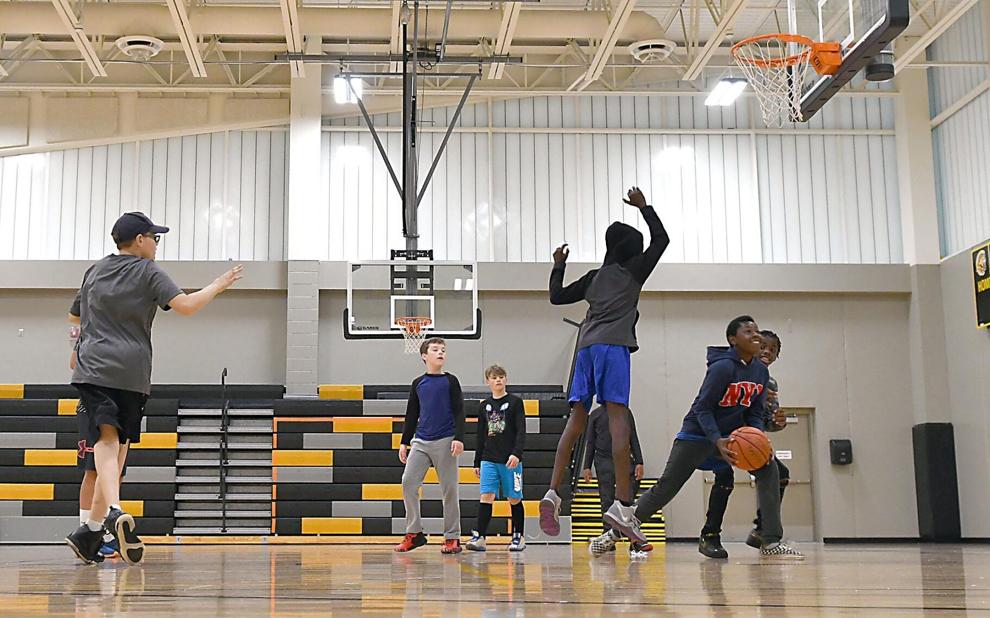 In coming weeks, Assistant Principal Aaron Hyer said, students will pick a career that interests them from a list of options. They'll spend part of their mornings learning more about their prospective future profession and what skills they'll need to learn before they're ready for their first job.
There are more than 80 students at Prairie Winds this summer and nearly 80 at Dakota Meadows — roughly double a typical summer at both schools, the assistant principals said.
At St. Peter Middle School, summer school coordinator Ytive Prafke said a week has been added to the traditional summer school program as well as an optional enrichment program. Middle schoolers can choose to stay into the afternoon for extra hands-on activities that have included sewing, archery, landscaping and creating stained glass art.
Elementary schools
In past years, elementary summer school pupils in Mankato Area Public Schools received extra support in either reading or math. This summer more students are getting a broader experience over a longer period.
Every student is getting extra instruction in both reading and math, Johnson said. A week was added on to the normal summer school calendar and an hour was added to each day. Elementary students this summer are attending for five hours per day, four days a week for five weeks.
Rosa Parks and Monroe elementary schools are the summer hosts to elementary students from across the district.
Nearly 600 students registered to attend, Johnson said, compared to 450 to 500 in a typical summer.
The St. Peter elementary summer school program typically has one class of about 15 students per grade level. This year it was expanded to two classes for most grades and three classes for first grade, Prafke said.
Like the middle school, the St. Peter elementary calendar also was expanded from four to five weeks.
Loyola Catholic School is trying out a new one-on-one summer opportunity for its elementary pupils. Instead of daily classes, teachers are working individually with students for a half-hour twice a week. All students were invited to sign up for some extra help or acceleration in reading, math or both.
"It's really focused, individualized instruction," said Becky Gerdes, Loyola's dean of academics.
Most families pay $25 for each session, with scholarships available. More than 50 Loyola students — or nearly a quarter of the elementary students — are participating.
High schools
Area high school students continue to work at their own pace to complete required coursework.
The Mankato Area Learning Center serves students from Mankato Area Public Schools as well as from several other smaller surrounding districts and area private schools.
St. Peter Public Schools also has its own high school learning center in which nearly 150 students have already concluded their summer studies.
The Mankato Area Learning Center moved from its usual home at the Lincoln Community Center to the more spacious East High School to accommodate about 500 summer students. That's nearly double the norm, said Principal Brian Hansen.
The students are catching up on coursework online, but they are doing so in person with a teacher in every classroom to help whenever they get stuck, Hansen said.
An online program of assessments and lessons allows students to concentrate on just the standards they did not master during the school year.
"We're meeting the students where they are at," Hansen said.
The high school summer program started in mid-June and goes through the end of July. Students have individualized schedules, Hansen said. Some students need all of that time while others finish within a few days.
Other supports
For the first time this year, Mankato Area Public Schools summer programs have counselors, psychologists and/or social workers on hand to support students.
They help students individually with mental health needs and connecting them with school and community resources.
In the elementary programs, counselors are giving students surveys about how they've coped with the pandemic. At the elementary and middle schools, the counselors also are visiting classes to lead lessons on social-emotional development.
In St. Peter, counselors also were available for the high school program and are on call to come in when needed by the younger summer learners.
Additional staff to support English language learners also are working in this year's summer programs.
Also new this year, busing is available for all of Mankato's summer learners. Previously transportation was provided only for the youngest learners.
Plastic dividers still stand between desks, some students wear masks and students don't do much intermingling with other classes.
But pandemic safety protocols in place during the school year have been eased in summer school settings.
School officials say they are following updated guidelines from the U.S. Centers for Disease Control and Prevention.
Students and staff who have not completed a COVID-19 vaccine are encouraged but not required to wear masks in school buildings. Everyone must wear masks on buses.
Free meals continue to be provided to summer school students as well as to other children.
The Mankato district has daily to-go meal distributions at 10 schools. The St. Peter district provides daily meals to summer program students and weekly distributions for other families at schools and delivered to neighborhoods.
The federal government has been funding free meals for all students throughout the pandemic and continuing through the coming school year.