An extraordinarily hot June, along with one of the 10 driest summers Minnesota has ever experienced, has led to "leaf scorching" and drier soil that could dampen the vibrancy of leaves locally this fall, state experts say.
The first 10 days of June, during which temperatures statewide reached the highest levels recorded for that timeframe, led to a remarkable phenomenon in southern Minnesota, forest health specialist Brian Schwingle said.
Late in the month, the Department of Natural Resources employee said he saw more deciduous trees, particularly oaks, dropping larger numbers of their leaves than he had ever before observed. The entire crowns of many bur oaks had turned brown.
By late July, he consulted with a forester in Mankato who concurred that sugar maples, cottonwoods and oaks were all either losing their green color or shedding parts of their canopy to retain water.
One reason for potentially less brilliant fall vistas, Schwingle said, is the sheer lack of leaves on trees due to this early shedding. Deciduous trees have evolved to drop leaves to conserve moisture in drought conditions.
"Severe drought can induce early leaf drop or just leaf scorching. Really drought-stressed trees, they may have dropped their leaves already," he said.
But Schwingle cited a report by the University of Wisconsin saying that mild to moderate drought generally enhances the reds and oranges of fall leaves "unless the water deficiency is so severe that the leaves are killed before the autumn."
There may be bursts of sharper colors in the southern third of the state, where drought has recently abated and soil is not severely sapped of moisture.
He predicts that leaves will also change color earlier than normal in the northern third of Minnesota, which recorded a severe drought.
The DNR's newly reactivated Fall Color Finder showed that as of Monday, several counties in the northwest portion of the state reported leaves having moved to 25-50% of their peak red hue. Areas where leaves have moved to 10-25% of their peak fall color are mostly in the northeast section of Minnesota.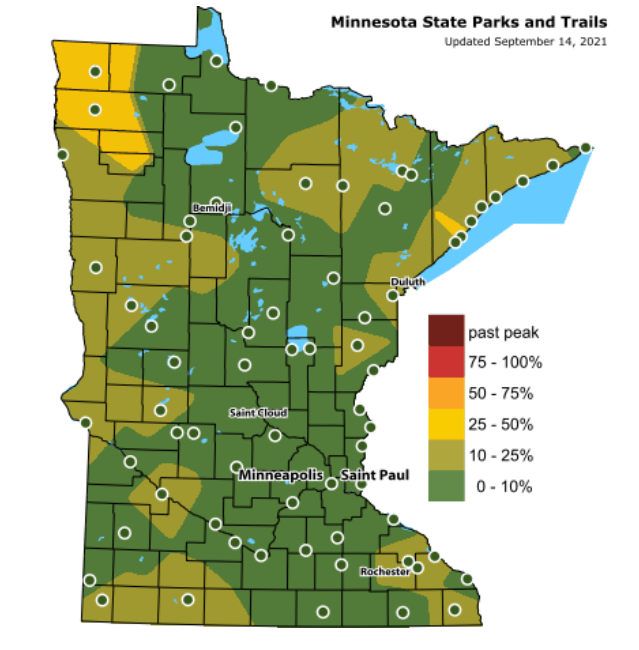 Much of the fall's outcome rests on the next two weeks of weather, according to a post by Val Cervenka, a DNR forest health program coordinator.
September is a month in which slight changes can slow color change or force trees to drop leaves before they begin transitioning to fall shades, Cervenka wrote. Though excessive wetness or cold weather would depart from the extremes of the summer, they could spoil the hopes of leaf seekers. Sunny, mild days are ideal.
Martin Mitchell, a professor at Minnesota State University who teaches climatology and weather courses, noted the latest weather has been dry.
"Historically we average about 3.2 inches of precipitation in September, and we only have a half-inch so far this month," Mitchell said Monday.
Another quarter-inch of rain fell in Mankato late Monday, according to the National Weather Service. After a likely quarter- to half-inch of rain projected to fall in a Thursday night thunderstorm, however, extended forecasts signal the area may endure another period without much rain.
The professor said the dry cycle has caused leaves to yellow more rapidly and may prompt them to fall from trees before they can develop vibrant reds and oranges. Mitchell noted that trees in southeastern Minnesota, from Lanesboro to the Mississippi River, should exhibit normal fall colorations.
Beyond aesthetics, the effects of this year's drought will linger, Schwingle said. Many trees across the state will die from the environmental stress.
"When there is a severe drought, what happens over the next two to three years is we see a lot of oaks dying and we see a lot of pines dying," he said. "The reason is that the drought stresses those trees and they became susceptible and attractive to a couple native insect pests."
Two insects are detrimental in central and southern Minnesota: the twolined chestnut borers kill oaks and native bark beetles kill pines.
The chestnut borers lay eggs in drought-weakened trees. The eggs hatch, and larvae begin feeding on tissue beneath the bark. The most noticeable uptick in tree mortality will come next year, when those larvae mature in the spring and begin to infect more trees.
He said homeowners with trees can prevent insect attacks by watering their trees infrequently but with a deep soaking to diminish stress from water deprivation. Schwingle advises against fertilization because it can further harm already weakened trees.
"Droughts happen," he said. "This has happened in the past. But the overall (tree) mortality rate over the next couple of years will certainly go up because of this drought."
Pamela Kittelson, a plant biologist and professor at Gustavus Adolphus College, said native species such as oaks, hackberries and elms are proficient at weathering droughts and rebounding to grow leaves the next year.
But their long-term health rests on the assumption that the trees can resist pests and that the drought will not continue into the coming years. Neither scenario is certain.
With a warmer future and more extreme weather variations likely, Kittelson said Minnesota residents have already begun and should continue to alter which species of plants they grow.
"One way we can adapt to changing temperatures and changing water regimes is to consider, as a homeowner or a landowner, planting species that are more drought-tolerant and can withstand lower water use," she said.