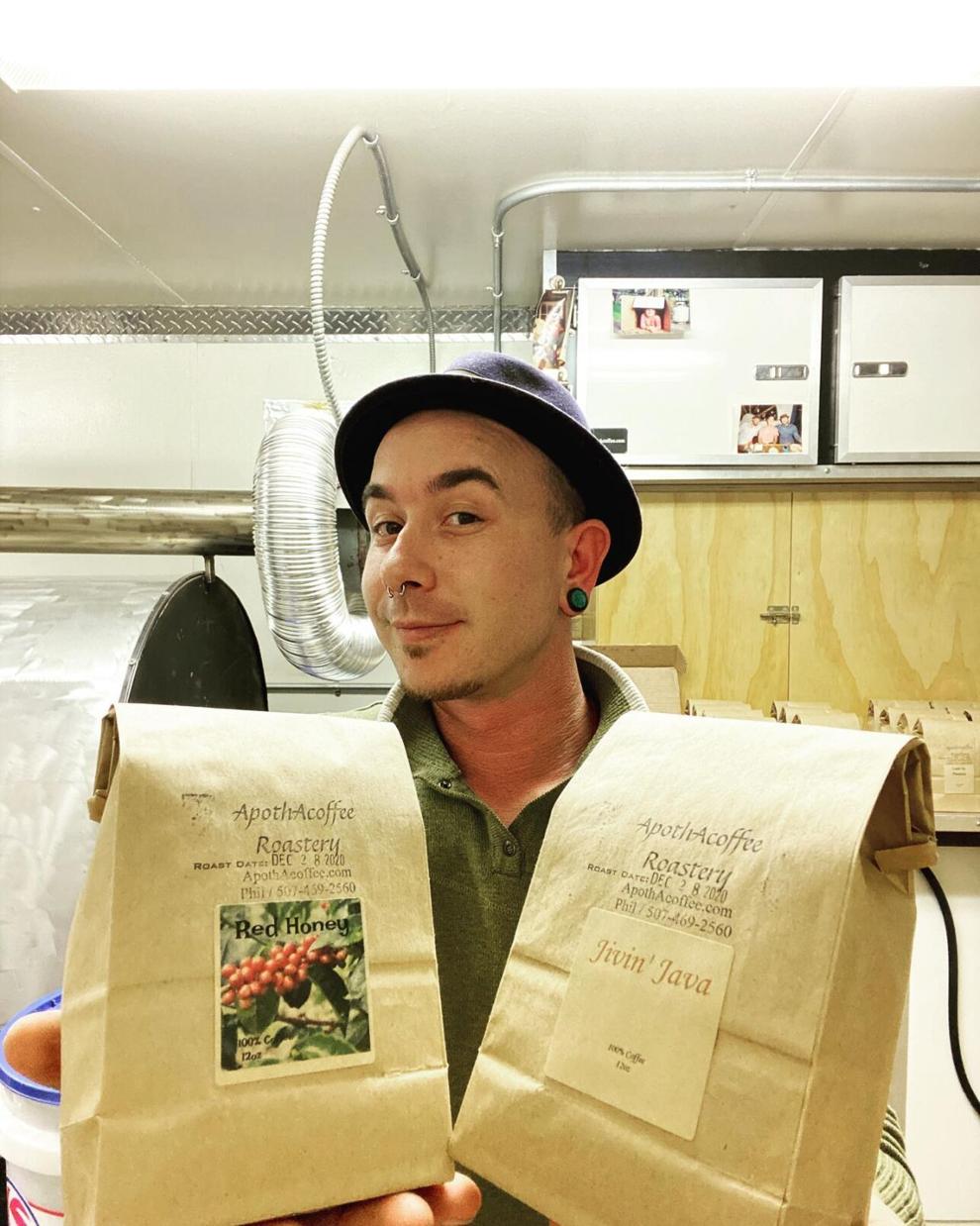 The thrill of the open road has called to adventurous souls for centuries. History is full of famous wanderers: Odysseus on a 10-year journey homeward, roving bards bringing song and story to castles and keeps, and even traveling salesmen meeting new faces and exploring new places with every passing week.
Nowadays, with cars to do our journeying, society has grown more roots, but there still remains a faction of happy-footed souls whose business requires a little jaunting about. Food trucks are one example. Itinerant coffee roasters are another.
Yes, you read that right – although Philip Compart of ApothAcoffee Roastery may have a lock on that particular business category for now.
"I am fully mobile not only with my home and my life but also my business," said Compart about his small-batch coffee roastery. A traveling coffee business might seem unexpected to some people, but thanks to Compart's skill set and experience, it was a natural choice for the Mankato coffee enthusiast.
Compart began roasting coffee beans for himself several years ago while considering the idea of starting a small wholesale coffee business. In an attempt to better understand the product he would be selling, he bought a bag of green coffee beans and fell in love with the delicious, rich flavors he could produce with just a small cast-iron skillet.
"The whole process is fascinating to me," Compart said. "Many people who drink coffee don't have any idea that it starts out as just a small seed growing in a cherry on a tree, and before it becomes drinkable you have to roast it, which is essentially burning it to a degree."
Compart's first attempts yielded only a quarter pound per batch, but his trial and error were paying big flavor dividends. He tried beans from several different sources and settled on Vournas, a small family-run importer based in California. After much experimenting, he discovered how to keep his roasts consistent and yield coffees that had complex flavors and good drinkability.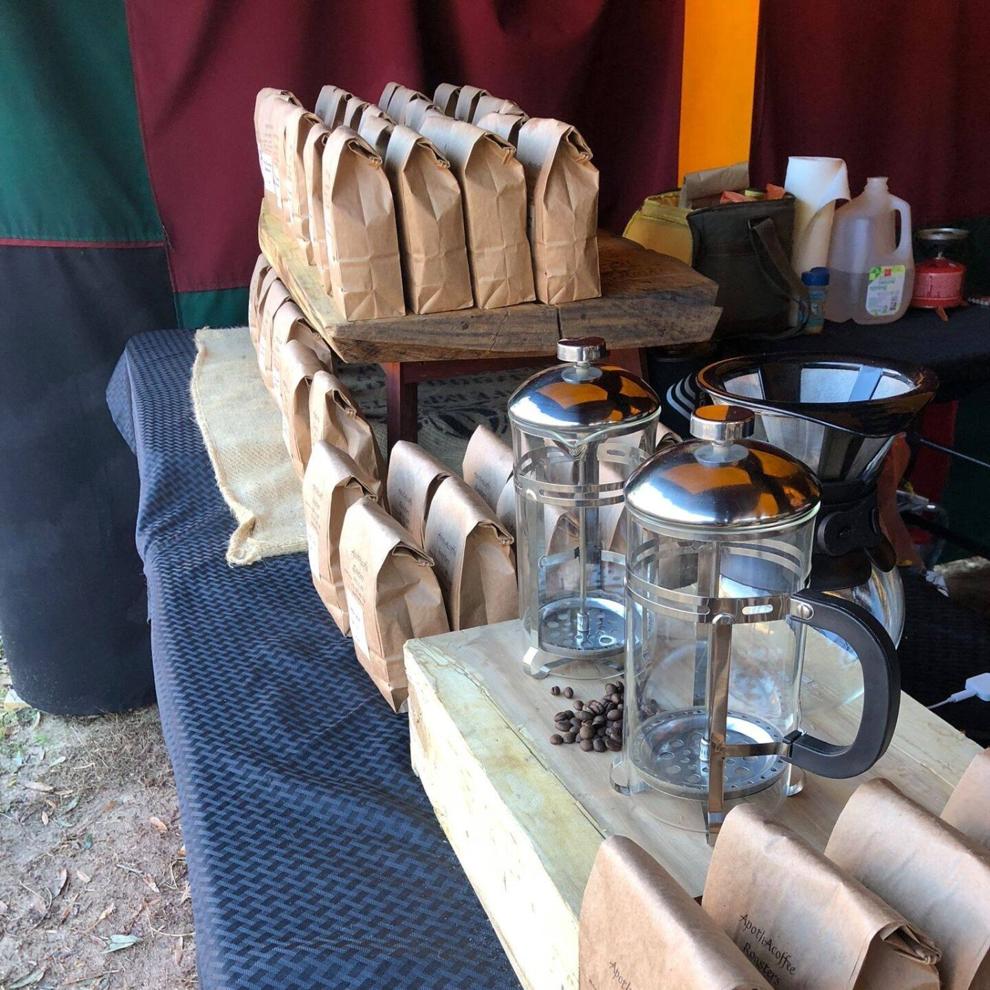 Hitting the road
In 2018, Compart was ready to make his passion a career. Rather than tie himself to a brick-and-mortar storefront, he pulled from his experience of being a traveling garlic salesman in Renaissance faire circuits. He purchased a 28-foot trailer installed with a roaster capable of cooking a pound of beans at a time, a destoning machine that removes twigs and other debris from newly roasted coffee, and a grinder in case his customers want their purchases ready-to-brew. In the front end, he installed his living space.
Compart returned to the faire circuit, this time peddling beans rather than bulbs. He said that he especially loves getting to see and hear his customers reviews of his coffee, and to help them find the types of coffee that they would most enjoy.
"In my experience, a lot of people believe that they like a dark roast, but I believe more people actually like medium roasts," said Compart. "With a lot of medium roasts, you're still going to have a complexity to the flavor profile: For instance, you can get chocolates and caramel and nutty flavors, but none of them will be overwhelming, and it'll just be smooth. You're not going to get this bitter, super high-acidic taste where it leaves a bad flavor in your mouth."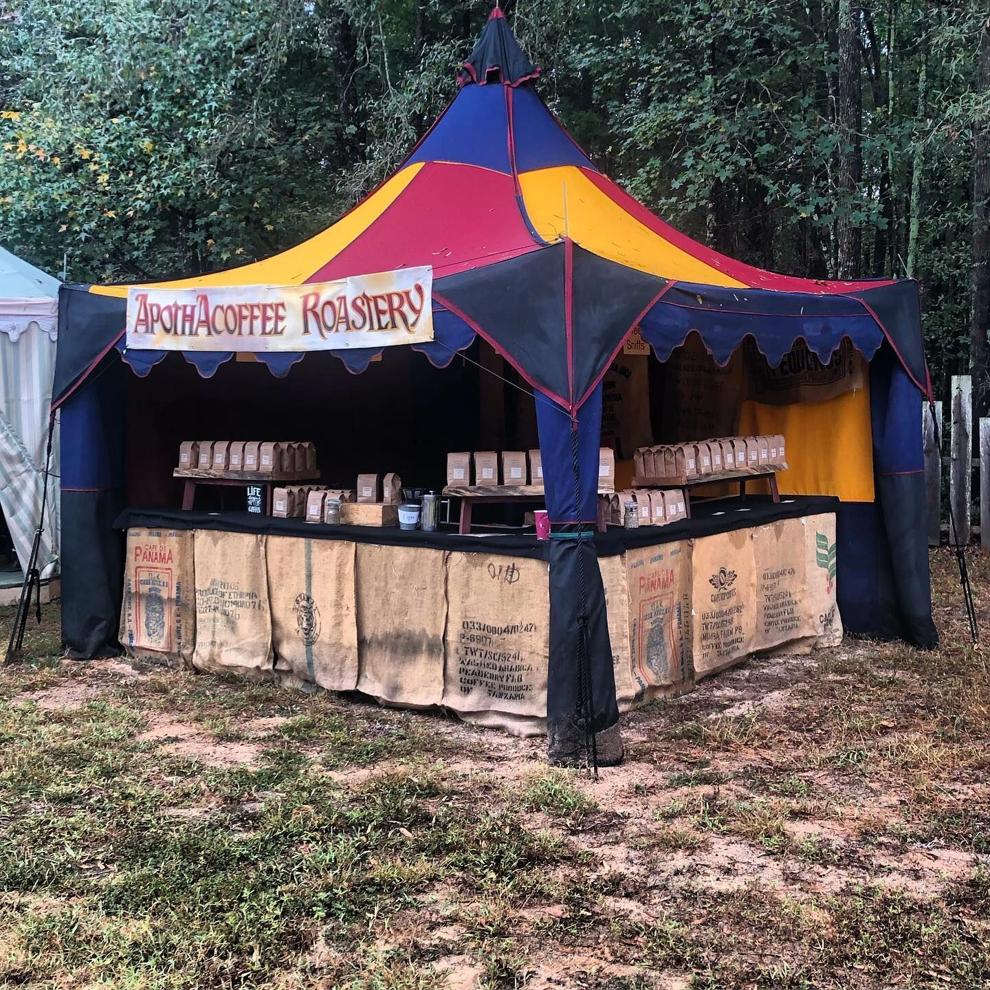 When the recent COVID-19 pandemic brought Renaissance faires to a grinding halt, it also drastically cut down on Compart's customer base. Faced with almost nonexistent traffic, Compart decided to see his circumstance as an opportunity for growth. Currently, he is in the middle of rebranding his enterprise to accommodate a much higher rate of online sales so that no matter where he is in the world, his customers can still find him.
"[COVID] forced me to build my website and build a social media presence, which has been a really good learning experience," Compart said. "My goal within the next couple of years here is to have my website built up to the point where it is supporting me and potentially a few employees."
Regardless of where his online business takes him, Compart has no current plan to open a permanent location in the near future. The ability to be fully mobile has unique perks, and he said he hopes to utilize his business setup as long as is practical.
"I enjoy the freedom of my lifestyle and choices," said Compart. "I really do have a passion for the actual roasting of the coffee and teaching people what good coffee can be."