In 2017, Mike Erickson decided to grow 140 acres of industrial hemp, adding it to his rotation of wheat, soybeans and sugarbeets on his farm near East Grand Forks. He harvested 4,000 bushels of hempseed and plans to grow hemp again in 2018.
"The potential of this crop is enormous. It has great potential and whether it's going to be realized in the United States or Minnesota, it has yet to be seen," said Erickson. "Within production agriculture, we are seeing a lot of reach for something different, a lot of reach to diversify."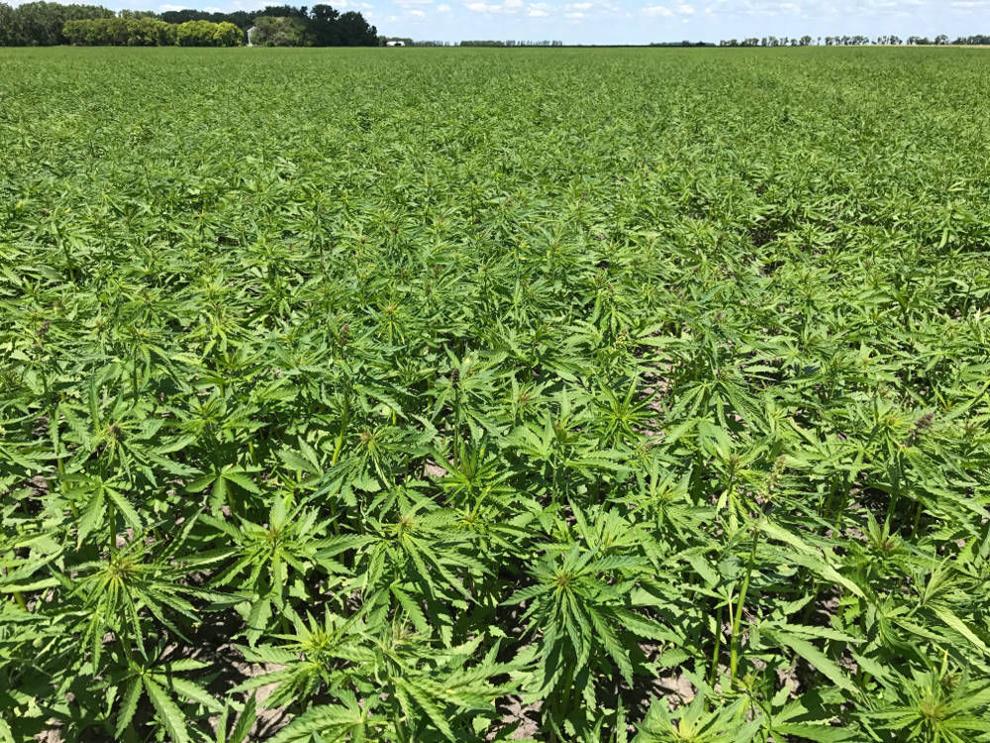 To grow industrial hemp in Minnesota, farmers must register in the Minnesota Department of Agriculture's Industrial Hemp Pilot Program. A criminal background check, fingerprint card and detailed map of your field location is required. Participants are also required to report their findings on growing, processing or selling the crop.
The program began in 2016 with 38 acres and jumped to 1,212 acres in 2017, reported Margaret Wiatrowski, MDA Industrial Hemp Program coordinator.
The 2014 farm bill allowed state ag departments to develop pilot programs to grow and study hemp. In 2015, the Minnesota Legislature passed a law which provided the framework for industrial hemp production.
While industrial hemp is in the cannabis family, it has a low concentration of THC, the active ingredient in marijuana. Hemp grown in Minnesota is tested to ensure that the plant's THC concentration is less than 0.3 percent on a dry weight basis.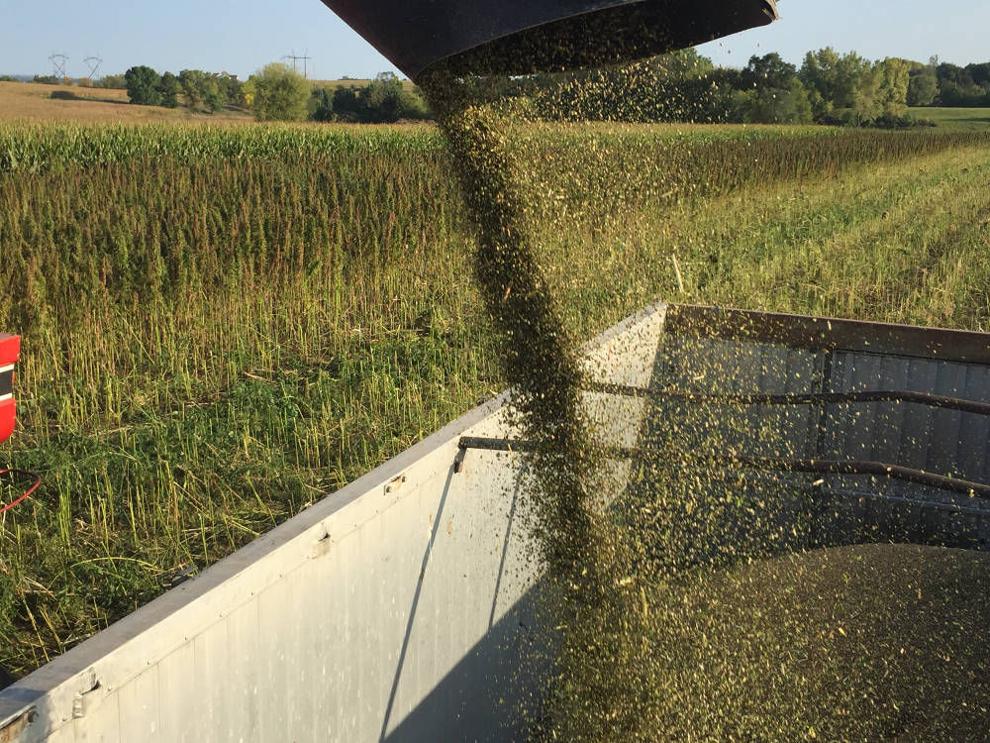 Industrial hemp has a variety of markets. The seeds are highly nutritious and rich in protein, healthy fats and essential fatty acids. Hulled hemp seeds, called hemp hearts, are sold in health food stores and major retailers. They can be sprinkled on salads, smoothies and yogurt. Hemp protein powder is being touted as one of the best vegan protein powders. Protein bars is one of its biggest markets.
Hempseed oil is also a major market. Hempseed oil can be used as a cooking oil or in skin care products among other things. Cannabidiol (CBD) oil is made from the flowers, stalks and leaves of hemp. CBD is gaining traction in health, nutritional and medical marijuana industries. Research shows that CBD oil may be helpful in treating inflammatory disorders, such as arthritis.  
The stalks can be used for fiber. Minnesota once had a strong hemp textile industry. In fact, hemp ditch weed is common in southern Minnesota. Hemp was last grown here in the 1950s.
The MDA is not responsible for helping growers market their hemp, but a few companies are tapping the market. After being the first approved industrial hemp grower in the state in 2016, John Strohfus founded Minnesota Hemp Farms near Hastings. His company offers certified seed, marketing contracts and consulting on agronomy and harvesting.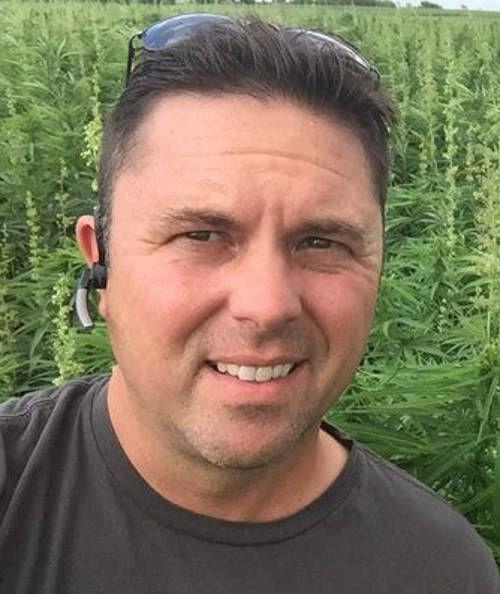 "Our model is we buy back every acre of planting seed that we sell," said Strohfus.
The focus of Minnesota Hemp Farms is hempseed products. Its flagship product is Field Theory Hemp Hearts, which are available at major grocers across Minnesota. Strohfus also provides bulk protein powder and hemp hearts to food manufacturers.
Strohfus presents information to farmers about growing and marketing industrial hemp. He has talked to farmers in Minnesota and now Wisconsin, which will grow hemp this year. He estimates farmers can make roughly $300 an acre on hemp.
"That gets them in the ballpark. That's a good honest answer. They know it's yield dependent," said Strohfus. "In Canada, 800 pounds an acre for a first year grower is pretty typical."
Growing hemp
Producers must grow certified hemp seed from Canada or the EU. Mike Erickson acquired his seed from Minnesota Hemp Farms via Canada. MDA arranges the shipments, but pilot growers place the orders and pay for the seed independently. All seed shipments are delivered to the MDA building where they are verified before being shipped to a licensed seed distributor such as Minnesota Hemp Farms. Then the grower picks up the seed and signs a form to verify the amount of seed received.
Erickson, a conventional grower, learned about the program in January of 2017, which is late for making crop decisions. "I just jumped into it," he said.
He planted a 92-100 day crop. In general, hemp is planted in June and harvested in September. Growers can get their hemp in after corn and soybeans and harvest before corn and soybeans. Erickson harvested in early September.
Planting went very well. Erickson used a press drill, the same one he uses for soybeans and wheat. He seeded as we would any other crop, altering the settings and rate. Optimal planting depth is a half-inch.
Rain came shortly after seeding the crop, which was very beneficial in getting the seeds to start the germination process. He fertilized the crop similar to wheat.
"Once the crop started growing, it was a very vigorous crop. It was good fast growth. It did a good job of growing and shading out weeds in the field," said Erickson.
Erickson did not need to apply any pesticides.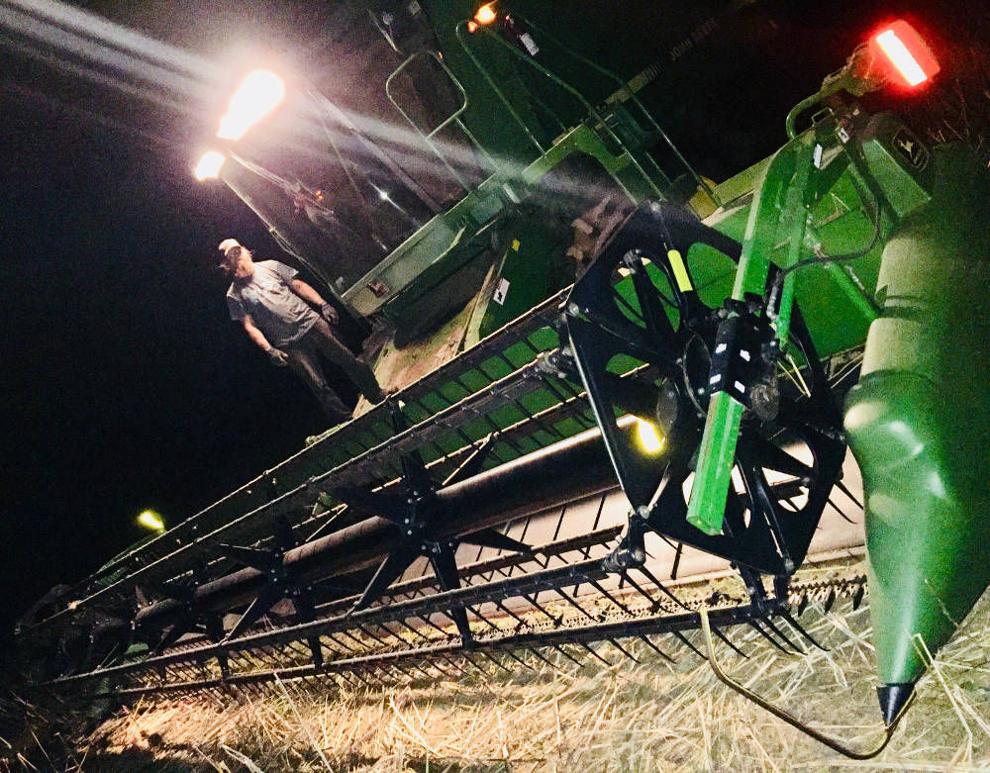 Harvesting also went well for Erickson. "We used a combine that would be used in soybeans, wheat, sunflowers. We just made some minor modifications to be compatible to harvest hemp," he said.
Erickson found information online, including how-to videos. He also talked to farmers who have grown hemp to get words of wisdom. His crop consultant found some key information for him.
Harvesting hemp can be challenging. The optimal moisture for harvesting hemp is 20 percent, but a few days later the plant can dry down to 15 percent, explained Strohfus. The fiber and stalks can wrap around the combine causing producers to stop often to unwrap, cut and remove material.
"When you get 16 percent (moisture) or less, it becomes problematic," said Strohfus
Hemp grain must be cleaned in the field, dried and then put directly into aerated storage.
"The number one mistake that growers are going to make is to let their grain spoil in the bin," said Strohfus.
When grain is not cleaned in the field, dry down takes longer, said Strohfus.
"Within four hours of combining, you should have your grain on aeration and moved daily — a full bin emptied and refilled until it's at 9 percent (moisture) or less," Strohfus said.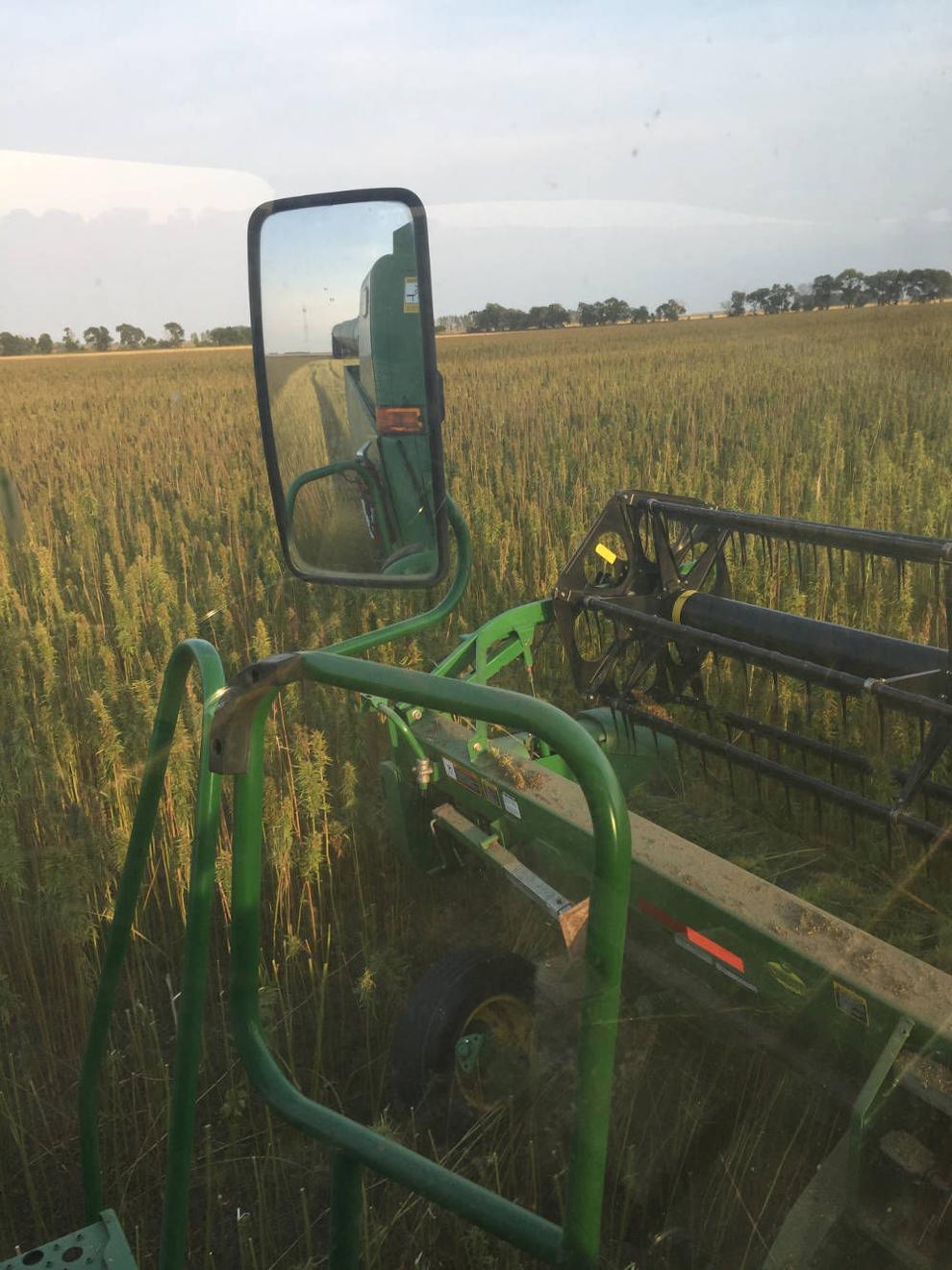 Erickson cleaned the seed in the field before storing his 4,000 bushels into a 15,000 bushel bin. His on-farm bin has an aerated floor. Not filling the bin to capacity left plenty of room for the grain to dry down. 
"We didn't have a dryer. We just used air," said Erickson. "That same bin is where it sits today in storage."
He will market the food-grade seed this winter. He has some buyers who have expressed interest.
"My advice to farmers is to make sure to do some research, make an educated decision based on what is best for each individual operation," said Erickson.  
After harvest, Strohfus recommends getting the stalks off the field even if you don't sell them. He marketed some of his stalks to a textile processor.
"The post-harvest trash management is really difficult," said Strohfus.
Strohfus offered this advice to farmers: "Don't plant unless you have a contract for your production. Don't plant unless you can get support for harvest."
The Land will be running a series of articles on hemp exploring this emerging industry. Expect an article on entrepreneurs, infrastructure challenges and opportunities, certified seed production and laws.