"Literacy ain't everything"
This is just one of several bits of wisdom adorning "Old Ruthie," the 19-something-or-other Model A Ford that moved the man known as Hillbilly Bob around the streets of this year's Clay County Fair at Spencer, Iowa. But that extravagant vehicle didn't just bring guffaws and snickers at the "World's Largest County Fair."
According to Hillbilly Bob, he and his rig have been on the road for 23 years, visiting 41 states and Canada. And they've piled on the miles —  6,000 miles in "low gear" meandering around fairgrounds across America. However when on the highway, Old Ruthie travels inside an enclosed trailer; Bob has logged over 350,000 miles on his towing machine.
This guy and Old Ruthie are always a delight, primarily because of the 200-plus trivia items hitched, fastened, glued, bolted or just hanging on the carcass of Old Ruthie and the small trailer she tows.
"I keep adding items to Ruthie. This year here at the Clay County Fair I've added my three-bar spinner hub caps and my pom poms in the rear window," he said. "They're made out of corn cobs so what could be more appropriate here in the biggest corn state in the nation!"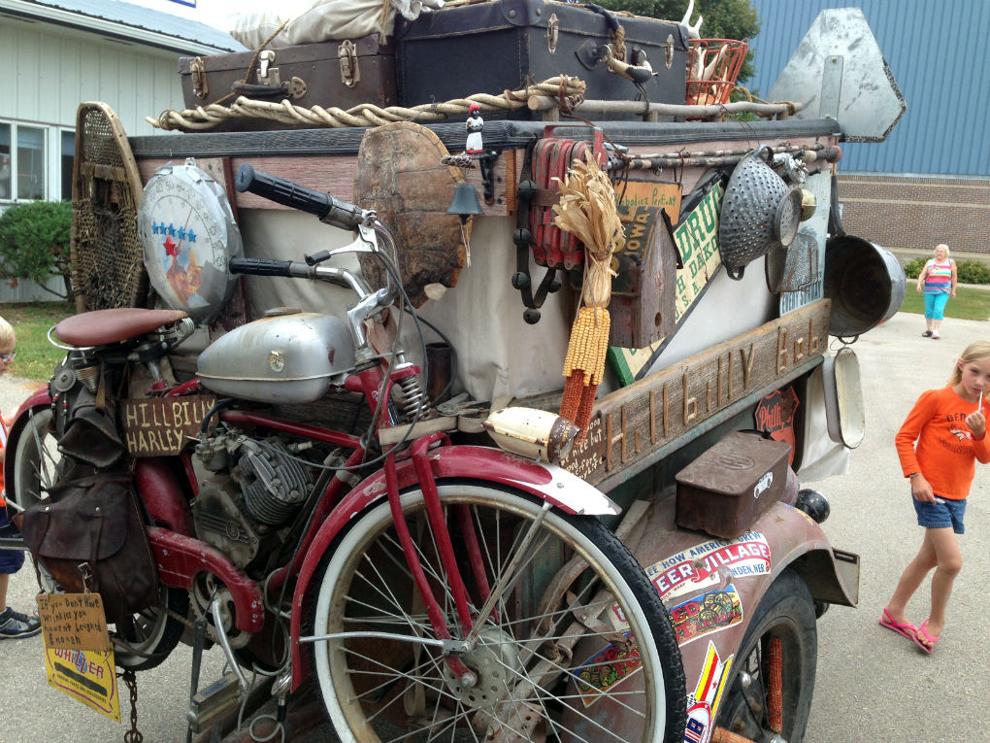 "People see things like the old strap on ice skates which my Dad used to strap to his boots when he wanted to see how fast the ice was," he added.
One of the most popular questions Hillbilly Bob gets is what year is Old Ruthie.
"Then they often ask what year am I. So far Old Ruthie is a bit older but I think I'm catching up with the old gal," chuckled Bob. "They like to know where I'm from. I tell them I live on the farm my great-great-grandfather settled in 1853. My grandkids are the seventh generation on that land."
A Whizzer motorbike hangs on the trailer towed by Old Ruthie. The trailer has coiled metal pipe rafters supporting a roof that looks like an ancient carpet. Tucked into this hide-away are some pillows, a couple tattered bed blankets and an old kerosene lantern that hasn't shown light for many a moon. He calls this his RV Hillbilly Hotel. It's salvaged from a 1927 Model T pickup bed. He confesses he does take a few naps in this fancy hangout.
Bob travels alone these days because his bride of 47 years now prefers staying home with the grandchildren.
Born again
There is a tremendous Christian heart cloaked beneath all the joy and smiles he brings to people. When he's on the road he makes it a point to attend the Sunday morning church service regardless the community. And he dresses in the same Hillbilly Bob attire for his church visits.
"I know the Lord doesn't much care about how I look on the outside. He's more concerned with what's in my heart," he said.
Bob admits to being a lifetime church member because that's the way it was when raised in a farming community with a small country church.
"But the light just never came on 'til I was 49 years old. My booking agent had booked me into a little fair in Pensacola, Fla. I had never been to an Assembly of God church but they were advertising their church every Wednesday night," he said.
He decided to check it out.
"I had no idea I was walking into the biggest movement of God in the last century — the Brownsville Revival. It went on for five years. It started in June 1995, I remember. People flew in from all over the world. Busloads from all over the United States and Canada came to that church because God was moving there. And literally, I just stumbled in by accident," said Bob.
But he knew it was no accident.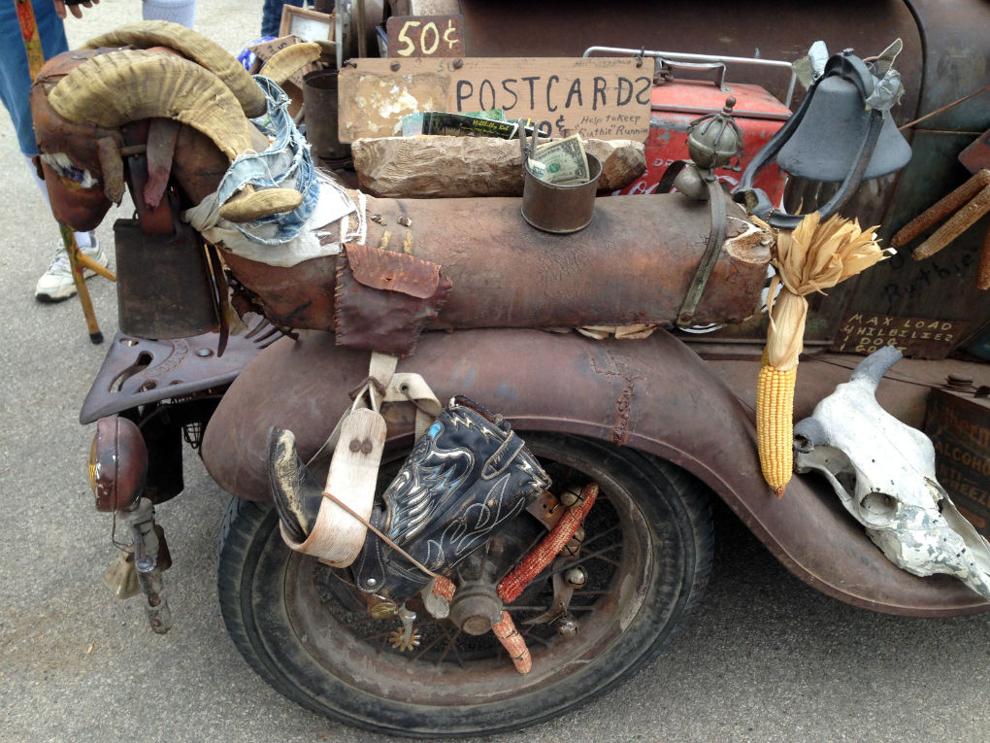 "God sent me there because he needed to use a big two-by-four on me. I got there late. I was driving a Freightliner and couldn't find a place to park. There was no place to sit. The ushers had all sat down. I was ready to leave and went looking for the back door. Sitting in the very back row sat an older guy with his cane draped over a chair just like he was saving that chair for me," he said.
So Hillbilly Bob sat down.
"I heard a message that night that I could be born again. I could have a spiritual birth. I could have a new life in Christ even though my sins could be as far as the East is from the West if I would invite Jesus Christ into my heart as my Lord and Savior," he said. "But I was sitting in that back row and felt pretty safe."
Pastor Steve Hill gave the altar call that night. He's known for giving about a 20-minute call, said Bob.
"I sat there and didn't move thinking everyone else can go up there but I'm too shy; I'm not going up. Suddenly the man sitting next to me, the man with the cane, said to me, 'Sir, do you need forgiveness? Do you need to meet Jesus Christ as your Lord and Savior?' That's the first in my life that I ever experienced the Holy Spirit.
"I went forward and gave my heart to Jesus Christ that night in Pensacola, Fla. And I could sense a difference. I was changed. I was a new creation in Christ," he said.
Living his faith
The next day Hillbilly Bob bought a Bible to replace his Sunday School Bible covered in dust. Today, his Bible is full of check marks, underlined and highlighted as he studies God's Word and God's plan for his life.
Back to Pensacola, Fla.
"Three days after that Wednesday night sermon I was at the Cracker Barrel restaurant paying my bill as I was leaving. I heard a voice behind me saying, 'Hello Bob'. I turned around. It was the man with the cane," he said. "He invited me to sit a bit with him in the rocking chairs out front of the Cracker Barrel restaurant. He had an old tattered Bible.
"He showed me some key verses that kind of got me going on my own life. We sat there talking for maybe two hours. He had given me just that extra push towards a new life. If it hadn't been for that man I could still be unsaved yet today."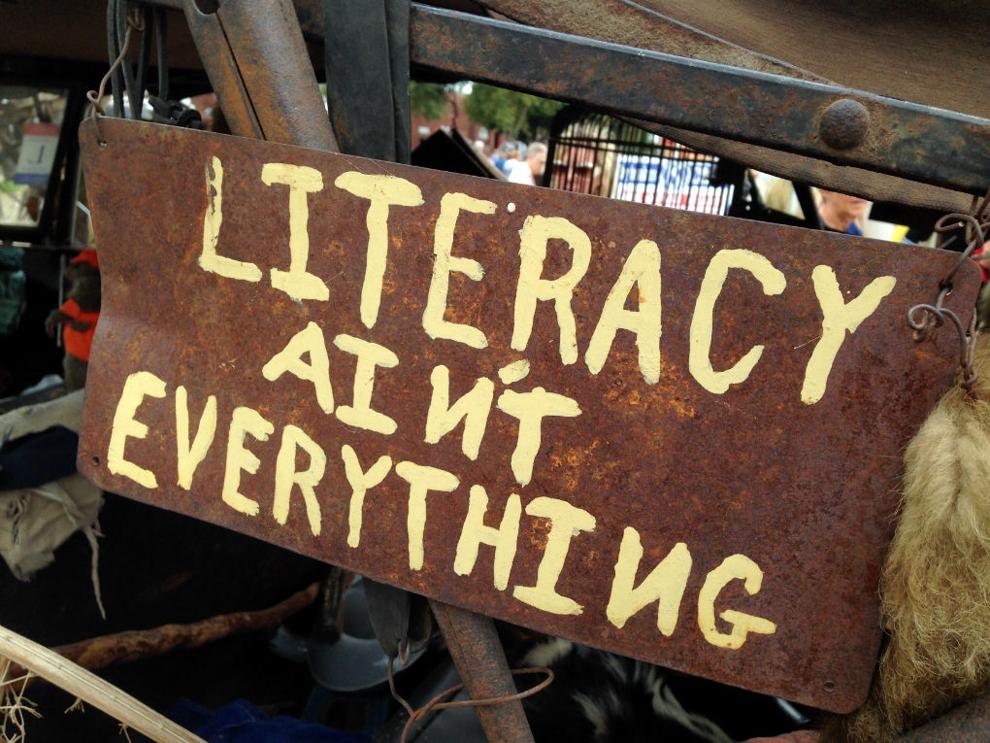 Hillbilly Bob went to his Freightliner and got a yellow legal pad to write down the man's address — a post office box. The old man lived in his car, which carried everything he owned.
"The man that led me to Jesus lived in a Chevrolet Blazer. He gave me a revival tape. I listened to it all the way to my home in Dysart, Iowa," he said. "I found a good Bible-believing church; I got into the Word and learned God's plan for my life; my wife was on board with me and our lives are completely changed today. We now live a life of service helping people any way we can in Jesus' name."
Hillbilly Bob does 12 to 20 events each year — fairs, rodeos and festivals. 
"It's always a pleasure seeing the country and meeting and seeing so many kind and wonderful people. Seems we do lots of complaining about America but we truly do have a remarkable nation," he said. "Sharing the Gospel just makes it all the much better."
The Clay County Fair was his last event for 2015 as he had to go home and do some farming. His seed corn was already harvested and at the Pioneer processing facility. With 350 acres of corn and 350 acres of soybeans plus his Pioneer seed fields, Bob — otherwise known as Bob Hill — is in the ranks of professional farmers.
But when it comes to spreading cheer and making people smile and laugh, Hillbilly Bob is in a league with the angels. Maybe that explains that "halo effect" when he's holding court with the many folks who just enjoy talking and listening to him.