MORGAN, Minn. — Sometimes adversity is adventure. When two years of drought severely impacted his corn and soybean yields in 2007 and 2008, Tom Smude of rural Pierz tried a new crop: sunflowers. He was aware sunflowers thrive in hot weather on lighter soils and with little rain. Plus they have strong root systems which can break through compacted soils. All of which means, here is a remarkably drought-tolerant crop.
But Smude also knew that if you grow it, you must market it. No problem with corn and soybeans because local markets were close by. Not so with sunflowers. The closest buyer of sunflowers was Enderlin, N.D., which is about 140 miles northwest of their Morrison County farm. That's a bunch of trucking expense. And if the bulk market collapses, profits also disappear.
Both Smude and wife Jenni were aware of a growing consumer market for high oleic oils. They also knew sunflower oil was a product that fit this consumer demand. But there wasn't a sunflower processing facility in the area. "So why not build your own?" Smude asked himself.  And apparently, his answer was, "Yes, why not."
Through a contact in Wisconsin, Smude sourced the primary equipment that would be necessary (presses and filtration equipment) for processing the sunflower oil. Most of it was made in Germany. The remaining equipment, piping and plumbing services were locally obtained. With encouragement and bookkeeping experience from Jenni, Smude's Sunflower Oil was launched in 2010.
The Smudes' first goal was to sell by-products and bulk oil by semi loads. Three months later, they faced a hard choice when the bulk oil price crashed. Staying positive, their next move was going retail with their sunflower oil. This was March 10, 2012.
Smude was actually looking at sunflower meal as a primary feed source for cattle. He has a 75-head beef herd and thought sunflower meal could entirely replace the nutrition provided by soybean meal. Going this route, sunflower oil was going to be the by-product. But that's when bulk oil prices plunged so they decided to bottle it instead.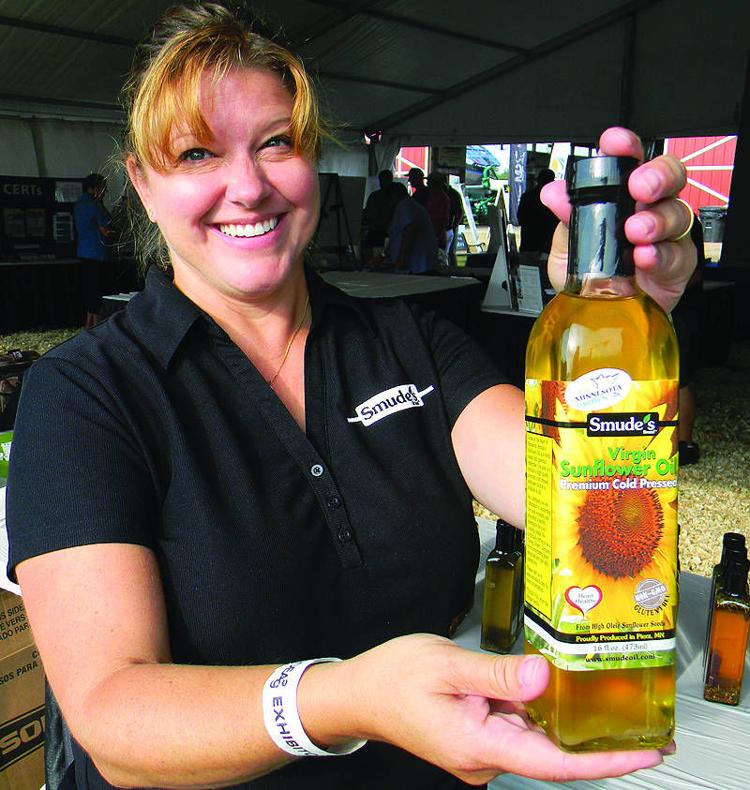 The word spread about the Smudes' new product and soon retailers were calling Tom and Jenni. Today, Smude's Sunflower Oil is bottled and sold across the Midwest in many grocery stores including Lunds and Byerlys, Kowalski's, Cub Foods, Coborn's, Super Target and others. Thanks to online marketing, Smude's Sunflower Oil is now being shipped nationwide.
"It's a completely Minnesota grown and made product," said Jenni Smude.
Demand
Indeed the Smudes' sunflower oil has become a genuine business bonanza! The family's farming acres have shrunk down to 300 acres with about 80 acres of sunflowers. But this year, area farmers from Wadena to North Branch are growing about 1,000 acres of sunflowers for Smude Enterprises. He estimates they will need 2,000 to 3,000 acres of sunflowers next year.
And as the sunflower oil market keeps expanding, so too does the market for sunflower meal — particularly with the pet food industry and now the equine industry too. Movie theaters are becoming big buyers too. 
"Sunflower oil is great for popcorn — both flavor and health wise," said Smude.
Preferring only high-oleic sunflower seed, Smude is enthusiastic about Mycogen and New Seed brands of sunflower seed. Both just seem to crush better, he commented.
Growers get paid by the hundredweight. Prices today are 18-19 cents per pound, plus a premium for flowers exceeding 42 percent oil (soybeans run only about 18 percent oil content). Growers get paid after their crop is crushed. Smude Enterprises will also provide bulk storage in separate bins for growers who don't have farm storage, or simply want to get their flowers to market as harvested.
Sunflowers average about 2,000 pounds per acre. At 20 cents per pound, that's a $400 crop. "The highest I've ever seen was 2,900 pounds," said Smude. "This year it looks like a good crop, but we're seeing some drought reductions in the western areas. We plant 22-inch rows but most are at 30-inches. Typical planting rate is right at 26,000 seeds per acre. Much like corn, you can do variable planting rates depending upon your soils."
Smude credits the Agricultural Utilization Research Institute with playing a role in their success. AURI is funded by the Minnesota state legislature. The Institute's purpose is to research new products from entrepreneurs in Minnesota agriculture and explore potential markets.
"They did all the nutritional facts and that's vital in the consumer market," Smude said. "They tested for oleic levels, fat content, even calorie values. Plus they're doing some by-product testing on the meal. Pelletizing the meal for the equine market could potentially be a big item I'm told."
The processing plant is a zero-waste facility. For instance, the hulls are used by area barns.
Entrepreneurs
Marketing the extra virgin cold pressed soybean oil started small. 
"We decided to do our first marketing of our sunflower oil at farmers markets in our area. It took off and we are now marketing through four distributors and retail locations throughout Minnesota. And we're launching another new product — microwave popcorn," said Jenni Smude.
The microwave popcorn was a big hit at Farmfest. Visitors sampled and bought.  
Smude chuckled, "I lay in bed late at night and some of these ideas keep popping up.  My wife is a huge help. We talk about everything before we decide to do anything. Yes, a lot of trial and error, but that's good learning too."
The Smudes were interviewed at the AURI tent at Farmfest, Aug. 1-3. Visit www.smudeoil.com to learn more.