ST. PAUL, Minn. — A regular observance at the Minnesota State Fair is fair-goers chewing their way through freshly-roasted ears of sweet corn for breakfast, lunch, mid-afternoon snacks, supper and early evening tastes before the grandstand show.
Brad Ribar, the corn roast guy at the State Fair, has a crew of youngsters who serve about 225,000 ears of sweet corn in 12 days! And sweet corn eaters don't just chew their delicacies in the vicinity of the big corn roast eatery. You see corn eaters roaming the fairgrounds munching away.
Ribar has been in the state fair sweet corn business since 1985.  He saw a sweet corn stand at the Wisconsin State Fair in 1980. Obviously, the idea germinated. Today, his Corn Roast stand is a Minnesota tradition.
Ribar said his busiest days occur during the weekend splash.
"Right around 25,000 ears on a Saturday last year," he recalled. "That's a real push for my young crew, but they have unending energy it seems."
Each ear is roasted either in the large electric-driven rotisseries or on the large charcoal grill. Then, with husks pulled back, each ear is dipped in a melted butter vat and then offered to the customer ear tip down. It can be a jungle behind the counter, but people seem to delight in watching the operation.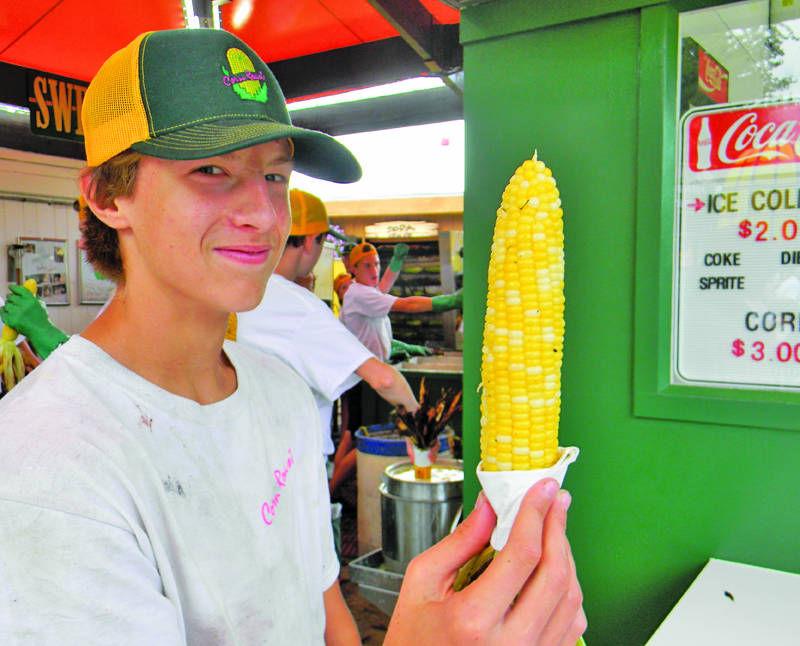 Hiring employees to work the stand is no problem. 
"They work hard, but they seem to enjoy the camaraderie that's part of this wild scene," said Ribar. "In past years, we've usually had 25-30 people on the waiting list to work here. This year, it was only about five. We pay by the hour. Essentially, there are two shifts, but some work through the entire day. This atmosphere around here is sort of crazy, but kids enjoy the work."
Corn starts cooking around 7 to 7:30 a.m. with the first cobs ready for eating about 8 a.m.
"Why not sweet corn for breakfast? It's just like corn flakes," joked Ribar.
Harvest
As you know, sweet corn tastes sweetest when eaten within 48 hours of harvest. Timing is key. Who grows this succulent corn to meet this incredible hunger each day? Jerrry Untiedt of Waverly, Minn., in Wright County is the producer. His 300 acres near Monticello is where he makes nine to 12 plantings to meet the daily needs of a 12-day state fair run plus many roadside stands and rural markets in his immediate area and the Minneapolis Farmers Market. In addition, Untiedt sells to a few selected Twin Cities food stores such as Cub Food and Kowalski's Markets.
"Planting corn in May or June trying to hit a 12-day window at the State Fair is kind of like shooting at a moving target," Untiedt said.
Untiedt's crew harvests about 2 acres each day for Ribar's Corn Roast. Fresh corn gets delivered after 11 p.m. each night. Crowds have mostly left the fairgrounds by that hour. Sweet corn picking starts at daylight each morning. Then it gets chilled with an ice bath until the evening delivery to the State Fair. 
How much corn is delivered each day? The guy delivering the corn gets the number from Ribar.
"When they unload the truck, I've figured out what I need tomorrow and perhaps the next day," Ribar said. "After 30 years I've got a pretty good track record on daily ears. Left over corn? Yes, sometimes; but this corn has a five-day shelf life."
Family business
Both Ribar's daughters work with him at the State Fair. He smiled and said, "I lost my son to his own food stand. He does Duke's Food Team at the Wisconsin State Fair."
For Ribar, the State Fair and the Clay County Fair in Spencer, Iowa, are his last events of the year. He also does a small fund-raiser for a youth group at our local church.
Ribar's food crew is a busy bunch since they do about 30 other events in Minnesota, Iowa and South Dakota. However, cheese is the delicacy at the other events. The Minnesota State Fair is his only sweet corn bash.
"We've tried to get into other fairs with sweet corn," Ribar said, "but unless you get the numbers, it doesn't generate good cash flow."
Ribar is a healthy 60-year old.
"I lose about 20 pounds every summer working these shows," he admitted. "We'll keep on doing this as long as good health permits."
Yes, there are lots of expenses in doing a state fair food stand, but at $3 an ear, that Corn Roast stand generates lots of revenue too!